Scotland makes formal request for second independence referendum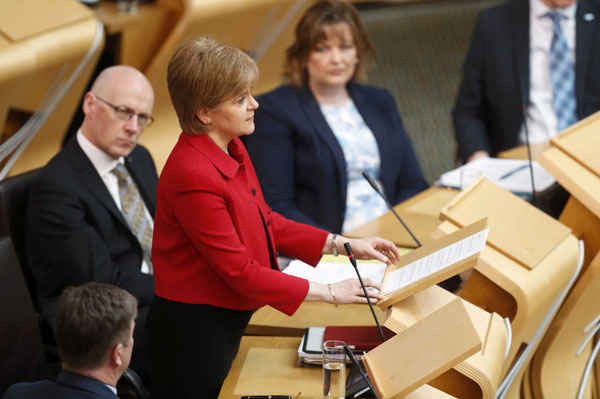 Scotland's First Minister Nicola Sturgeon attends a debate on a second referendum on independence at Scotland's Parliament in Holyrood, Edinburgh, Britain, March 28, 2017.[Photo/Agencies]
LONDON -- Scotland's First Minister Nicola Sturgeon asked British Prime Minister Theresa May on Friday to agree to allow Scotland to hold a second independence referendum.
Writing to May following the Scottish parliament vote backing a referendum, Sturgeon made her formal request to open talks on a Section 30 order that would facilitate it, according to local media reports.
She told the prime minister there appeared to be no rational reason for her to stand in the way of the will of the Scottish Parliament.
May's government has already announced it does not want a referendum in Scotland while negotiations are taking place between Westminster and Brussels about Britain's departure from the European Union (EU).
Downing Street issued a statement Friday afternoon rejecting Sturgeon's call.
The Scottish Parliament has already agreed to seek powers for a poll among the people of Scotland, but it can only go ahead with Westminster's approval.
A spokesman at 10 Downing Street confirmed that Sturgeon's letter had been received by e-mail and a response would be made "in due course".
In her letter, Sturgeon said: "The people of Scotland must have the right to choose our own future, in short, to exercise our right of self determination."
"Whatever outcome is secured, it seems inevitable that it will remove the UK, not just from the EU, but also from the single market. That is not an outcome that the people of Scotland voted for," she said.
People in Scotland voted by a margin of 62 to 38 in the June 23 referendum last year, with the Britain-wide vote showing 52 to 48 in favor of Brexit.