Courage, persistence key to success: Female path-breakers tell students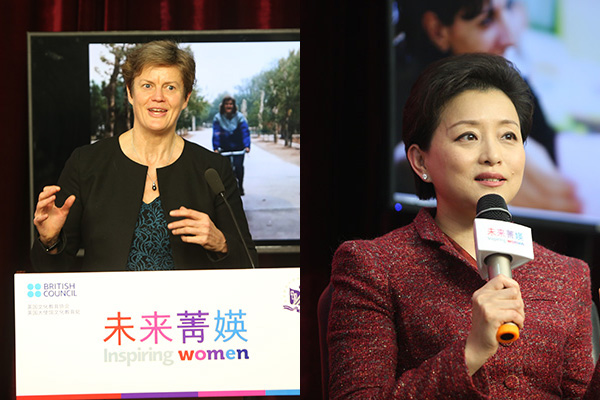 The United Kingdom's Ambassador in China Dame Barbara Woodward and Yang Lan, one of China's most successful female media entrepreneurs, address students at Beijing ESBNU Huaxia Girls' Middle School about their personal path to building a successful career on March 7, 2017. [Photo provided to chinadaily.com.cn]
Dame Barbara Woodward, United Kingdom's ambassador in China, and Yang Lan, one of China's most successful female media entrepreneurs, spoke with students at Beijing ESBNU Huaxia Girls' Middle School about their personal path to building a successful career on March 7, at a special event celebrating the International Women's Day.
According to Woodward and Yang, one should be courageous in envisioning her future career, and then endeavor to achieve success. The ambassador, whose mother was a teacher and father an engineer, became interested in diplomacy at a young age. To achieve her goal, she began gaining work experience around the world, including teaching in China and working in Europe and South America, and finally became a diplomat after passing the exam. She has been UK's envoy since February 2015 and is the first woman to hold the post. She was honored in 2016 for her services to UK-China relations, proving that a small seed of hope can be turned into great success through perseverance.
Yang started her career as a hostess in a TV show after graduating from college, although she had no professional training. She quit her job at the height of her career and pursued master's degree in international relations at Columbia University for she wanted to be a journalist. Yang became a well-known journalist and talk-show hostess, and later launched her own media business. Her recipe for success is to be faithful to one's choice and stick to it.
"Girls should dare to think about their future career without being limited by their own gender," said both speakers. "Women can be firefighters, surgeons, and pilots, and my own sister is a math professor," added Woodward.
The March 7 event was part of the "Inspiring Women" project launched by the British Council in China last December. At the heart of this program is a network of successful women from a broad range of backgrounds who volunteer their time to speak with students in schools about their work and the path they took to get there. In total, 55 schools have registered to take part in program activities and more than 240 women have signed up to volunteer. Further school talks will take place across China in March, including in Shanghai, Chongqing, Foshan and Wuhan. The British Council aims to have 1,000 schools and 10,000 volunteers signed up within two years.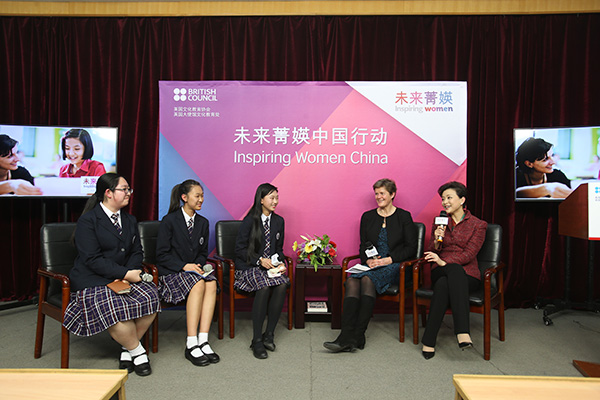 Dame Barbara Woodward and Yang Lan speak with students at Beijing ESBNU Huaxia Girls' Middle School about their personal path to building a successful career on March 7, 2017. [Photo provided to chinadaily.com.cn]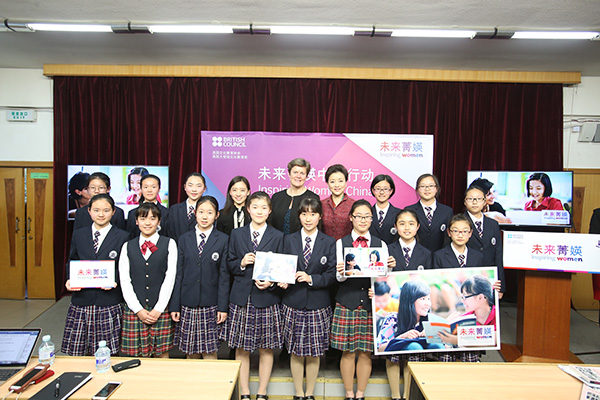 Dame Barbara Woodward and Yang Lan pose for a group photo with students at Beijing ESBNU Huaxia Girls' Middle School about their personal path to building a successful career on March 7, 2017. [Photo provided to chinadaily.com.cn]