Over 200,000 people displaced due to Mosul offensive, deputy UN spokesman says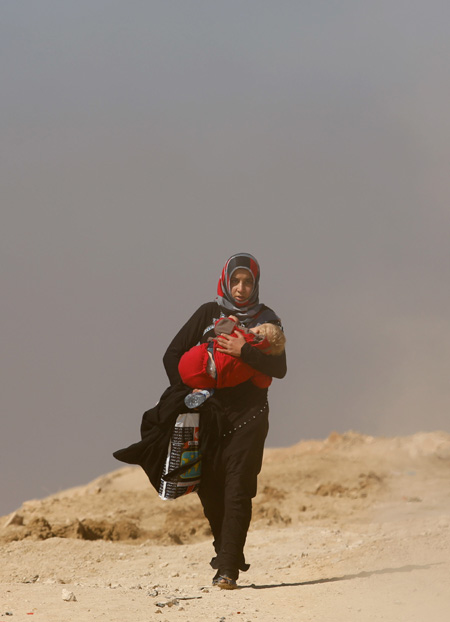 A displaced Iraqi woman flees her home as Iraqi forces battle with Islamic State militants, in western Mosul, Iraq March 6, 2017. [Photo/Agencies]
UNITED NATIONS - Civilian displacement out of western Mosul in Iraq continued over the weekend, Farhan Haq, the deputy UN spokesman, said here Monday, adding that the number of people displaced from both east and west Mosul tops 200,000.
"The number of people displaced from western Mosul alone since the military operation began on 19 February is approaching 46,000," Haq said at a daily news briefing here."The number of people currently displaced from east and west Mosul combined is 206,500."
"Emergency assistance, including ready-to-eat food, water and blankets, is being provided at mustering points and security screening sites, and families receive further assistance once they proceed to displacement areas," he said.
Humanitarian partners continue to race to establish space in camps and emergency sites for those displaced, he noted.
Currently space for almost 77,000 people is available, and work is ongoing to further expand and establish new sites, Haq said. "Public buildings are also being investigated as additional emergency shelter sites."