Over 200,000 people displaced due to Mosul offensive, deputy UN spokesman says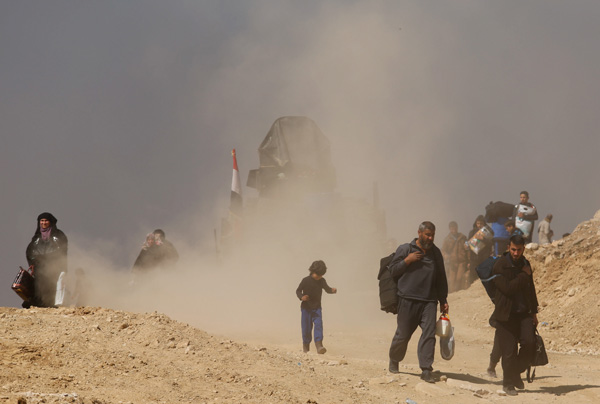 Displaced Iraqis flee their homes as Iraqi forces battle with Islamic State militants, in western Mosul, Iraq March 6, 2017. [Photo/Agencies]
Over the weekend, humanitarian workers were able to distribute emergency assistance inside western Mosul for the first time. Some 200 families in a south-western neighbourhood received emergency packages of food rations, water, and hygiene supplies.
Mosul witnessed a fighting between the Iraqi government forces and Islamic State (IS/Da'esh) terrorists
The Iraqi government force's advance toward Mosul came after the Iraqi Prime Minister Haider al-Abadi announced on Feb. 19 the start of an offensive to drive the extremist militants out of the western side of Mosul, locally known as the right bank of Tigris River which bisects the city.
Late in January, Abadi declared the liberation of the eastern side of Mosul, or the left bank of Tigris, after more than 100 days of fighting against the Islamic State (IS) militants.
However, the western side of Mosul, with its narrow streets and a heavy population of between 750,000 and 800,000, appears to be a bigger challenge to the Iraqi forces, according to the United Nations estimates.
Mosul, 400 km north of the Iraqi capital of Baghdad, has been under IS control since June 2014, when Iraqi government forces abandoned their weapons and fled, enabling IS militants to take control of parts of Iraq's northern and western regions.