Rome to commemorate bravery of Chinese female victim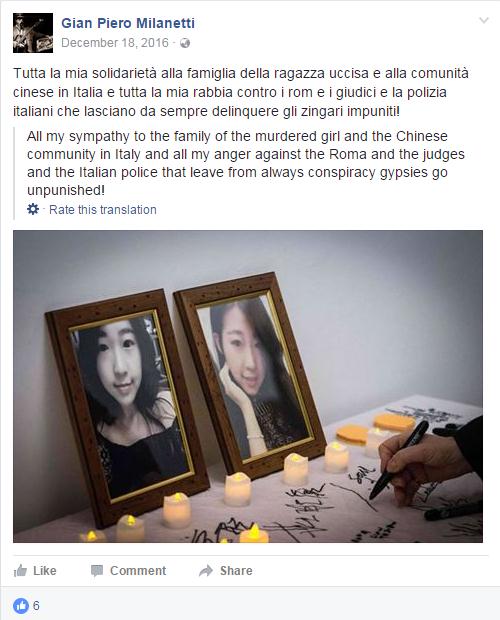 People mourn Zhang's death on Facebook. [Photo/Facebook]
The Italian capital of Rome will pay tribute to Chinese art student Zhang Yao by naming an avenue or square of the city in her name to commemorate her bravery in defending her rights, according to oushinet.com, a Chinese-language news website that focuses on Europe news.
The former 20-year-old student of Rome's Academy of the Fine Arts was fatally hit by a train while pursuing her belongings that were robbed from her as she was heading back from the immigration office on Dec 5 last year.
The city council and the mayor believe Zhang's bravery in defending her rights as a female and citizen is very touching and full of justice. They claimed Zhang is a role model for people of all nationalities. The Rome City Council believes it has the responsibility to name an avenue or square after her to show respect and support to legislation and liberty.
The proposal has been officially approved and the city council is set to hold a formal naming ceremony in the future.
About 200 mourners commemorated the student as they laid white roses and daisies outside the train station on Dec 11, two days after Zhang's body was found in a ditch near the train track.
The death of the aspiring artist, and only child of her family, caused her father to collapse during the memorial ceremony. The local Chinese community in Rome was shocked and angry as foreign students have always been preyed on in Italy.