Male trendsetters in the world of beauty blogging
Still glued to online makeup courses offered by gorgeous women? An emerging trend on Instagram and YouTube is starting to shake up conventional wisdom by de-gendering makeup and celebrating makeup for men.
Recently a community of beauty boys sharing their makeup skills and stunning looks has gone viral on social media. As The Guardian reported, these makeup gurus are not short of followers, many of whom have gained a fan base of over a million people.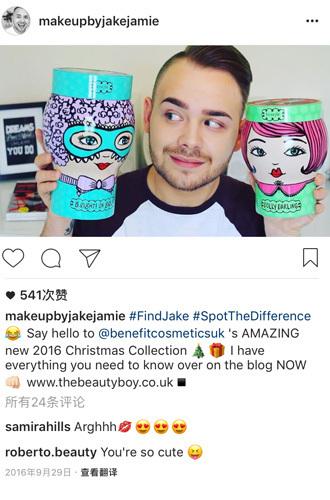 A screen shot of makeup artist Jake Jamie posts for a makeup brand. [Photo/Instagram]  
Gabriel Zamora, one well-known beauty boy, started learning to do makeup from scratch just to make his eyes look bigger. But now, he has more than 181,000 followers on Instagram, and even created his own YouTube channel.
More than that, a lot of male beauty bloggers have been invited to join in beauty campaigns launched by household name fashion brands. Last week, L'Oreal chose a male makeup artist Jake Jamie to take part in its new brands. Last October, James Charle, a 17-year-old makeup artist, was listed by CoverGirl as the beauty brand's first cover boy.
While early makeup for men is typically associated with drag queens, beauty boys, to a large extent, are trying to distinguish themselves from these trailblazers.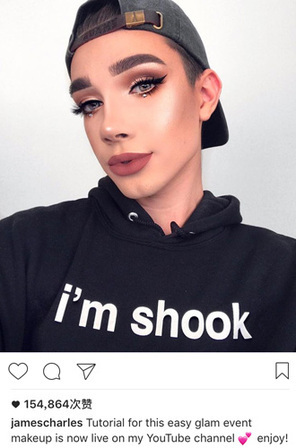 A screen shot of makeup artist James Charles promotes his YouTube channel for makeup tips. [Photo/Instagram]
As The Guardian quotes beauty boy James Charle, "Boys in makeup are boys in makeup. When you're a drag performer, you're a boy in makeup performing as a female."
The ongoing trend comes when more and more people, especially millennials, start to express the concept of "gender fluidity".
Last April, the 25-year-old "L'Oreal boy" Jake Jamie launched a #makeupisgenderless campaign on the internet.