New financial holding company set up to finance China-CEE projects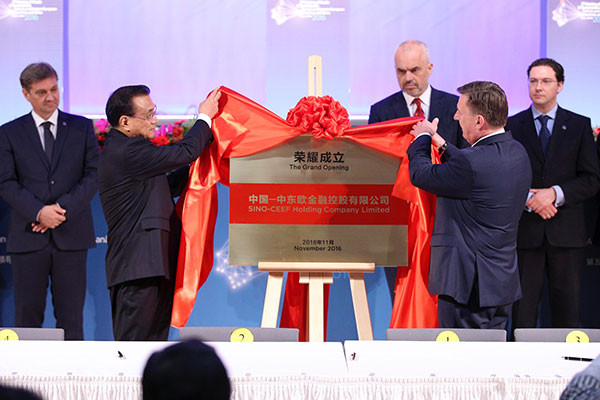 Premier Li Keqiang (left, second) and his Latvian counterpart jointly launch a financial joint venture Sino-CEEF Holdings Co Ltd in Riga, Latvia, on Nov 5.
A financial holding company was officially established on Saturday under the cooperative framework of China and 16 countries in Central and Eastern Europe, a crucial move to promote China-made equipment and products by helping finance joint projects in the region.
The Sino-CEEC Financial Holding Company Limited was inaugurated by Premier Li Keqiang and his hosting Latvian counterpart Maris Kucinskis after the 5th Meeting of Heads of Government between China and CEE countries in the Latvian capital Riga.
A financial holding company is a financial institution that engages in nonbanking activities to offer customers a wide range of financial services, including the chances to purchase insurance products and invest in securities.
The company will focus on projects in connectivity and production capacity cooperation that will purchase China-made equipment and products, Premier Li said while addressing the 6th China-Central and Eastern European Countries Economic and Trade Forum.
The company was part of Li's proposal to enhance financial cooperation in order to support China-CEE cooperation, also known as "16+1" cooperation, and provide financing for joint projects through diverse forms.
In 2013, China announced it would offer CEE countries loans of $10 billion, aiming to boost production capacity and infrastructure cooperation with the region. The company was originally an initiative proposed by Premier Li during the 4th annual China-CEEC leaders' meeting in Suzhou, Jiangsu province, last November. Industry and Commerce Bank of China, China's largest commercial bank, takes the lead in contributing funds to the company with participation of two other Chinese banks.
Li said a large amount of yuan and certain euros will be injected into the company, but didn't unveil the specific amount. "China has signed memorandum of understanding with Poland and Czech to make contributions to the financial holding company and other CEE countries are welcome to join us," Li said.
Financial cooperation is still a shortcoming for China-CEE cooperation and it takes more time to establish an inter-bank consortium that is able to better finance joint projects, said Kucinskis.
China is ready to use more yuan and euros to promote the company's financing capacity in the international market, meanwhile Chinese financial institutions such as the Silk Road Fund will support China-CEE projects in forms of equity and bonds, Li vowed.
More than 15 cooperative agreements were signed between China and CEE countries on Saturday after the fifth annual leaders meeting. Premier Li is scheduled to fly to St Petersburg on Sunday to visit Russia and attend the 21st Regular Meeting between Chinese and Russian Prime Ministers.