EU urges Trump to an EU-US summit 'as soon as possible'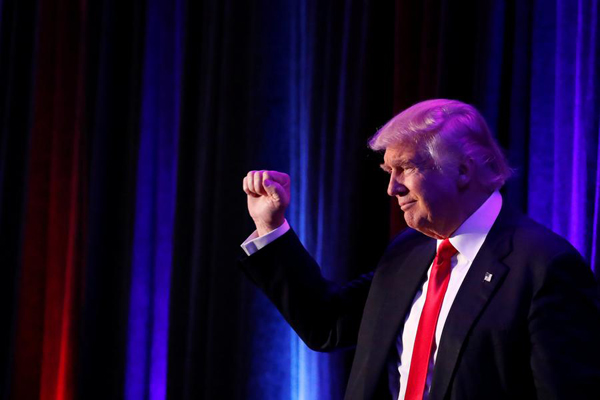 Republican presidential nominee Donald Trump arrives for his election night rally at the New York Hilton Midtown in Manhattan, New York, U.S., November 9, 2016. [Photo/Agencies]
European Council President Donald Tusk has invited the next American President Donald Trump to hold an EU-US summit as soon as possible, at the same time urging him to put trans-Atlantic relations high on his agenda.
Tusk sent the invitation shortly after Trump won Tuesday's election to be the 45th President of the United States of America.
"Today, it is more important than ever to strengthen transatlantic relations. Only by cooperating closely can the EU and the US continue to make a difference when dealing with unprecedented challenges," said Tusk in his congratulation letter.
Tusk has listed the shared challenges as so-called Islamic State, the threats to Ukraine's sovereignty and territorial integrity, climate change and migration.
"Fortunately, the EU - US strategic partnership is broad and deep," said Tusk.
Tusk said both sides have delivered joint efforts to enhance energy security and address climate change, through EU-US collaboration on facing threats to security in Europe's Eastern and Southern regions, and on the negotiations on the Transatlantic Trade and Investment Partnership.
" We should spare no effort to ensure that the ties that bind us remain strong and durable," said Tusk. "We should consolidate the bridges we have been building across the Atlantic."
Tusk said Europeans trust that America, whose democratic ideals have always been a beacon of hope around the globe, will continue to invest in its partnerships with friends and allies, to help make our citizens and the people of the world more secure and more prosperous.
"We would take this opportunity to invite you to visit Europe for an EU - US Summit at your earliest convenience," said Tusk. "This conversation would allow for us to chart the course of our relations for the next four years."
To contact the reporter: fujing@chinadaily.com.cn