Political minds divided and uncertain on Trump presidency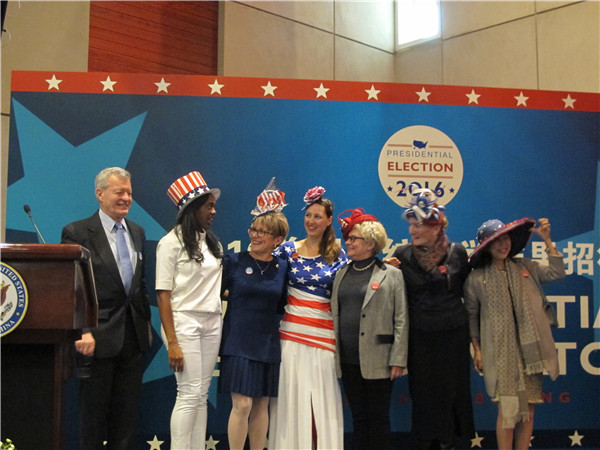 US ambassador to China, Max Baucus (L), poses for group photos with guests in the US embassy in Beijing on Wednesday. [Photo/chinadaily.com.cn]
Observers in both China and the US have expressed mixed view on the looming Donald Trump presidency, due to his lack of governing experience.
It came as a traditional election event was being held on election night at the US Embassy in Beijing.
Jean Cockroft, a Fullbright US scholar who is teaching political science at the Southwest University of China, suspects US-China relations could become more difficult amid a Trump presidency.
During a video Q&A, Thomas Schaller, political Science professor at the University of Maryland, also pointed out that US-China policies would be very different under the Trump administration, compared to a Clinton alternative.
"I expect Trump could be a bit more aggressive about trade deals. Trade relations would be different not just from the Obama tradition, but also from the Republican traditions including the Bush administration," Professor Schaller commented.
Apart from the trade issue, there is also general concern about whether the next US president would cast a shadow on the Sino-US climate cooperation. In 2012, Trump tweeted that "the concept of global warming was created by and for the Chinese in order to make US manufacturing non-competitive".
"It generally postures a American first or American alone, and there is a sort of policy isolationism in Trump's policy announcement. Given that he proclaims to call climate change 'liar', I cannot imagine that he would continue to be a dreamiest within his party," Professor Schaller said during the video interview with chinadaily.com.cn.
But, "How much Trump's words would turn into action is a different thing because of the congress and the division of his own party," Professor Cockroft stressed.
Despite all the political uncertainties facing the Republican leader, Zhang Wei, professor at the China University of Political Science and Law, remains optimistic. "As a business person, Trump's thinking is naturally different from traditional US politicians. Theoretically, Trump would bring more new ideas to the US political system, which could be a good thing," Zhang said.
"Plus, Trump knows how to do business with other countries unlike some ideal politicians without down-to-earth experiences. So, this could also contribute to better economic and trade ties between China and US."