Black humor dots NYC'S Times Square on election day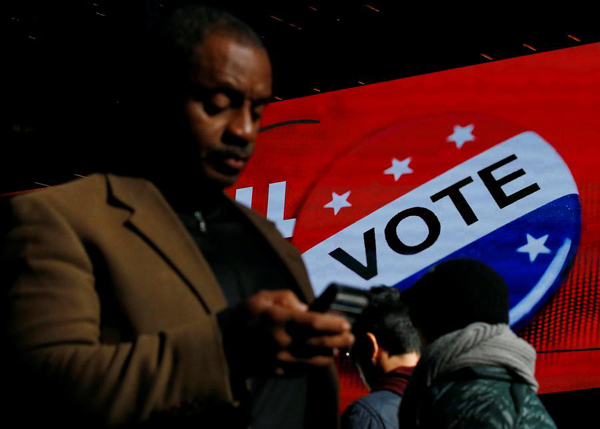 An electronic billboard displays a vote hashtag at Times Square in New York City, US, November 7, 2016. [Photo/Agencies]
NEW YORK - "More disgusted than excited" has recently been a much-used phrase for US media describing majority of likely voters' mood about the 2016 presidential election.
Yet there is no lack of black humor when referring to both major candidates, Democrat Hillary Clinton and Republican Donald Trump, who have the highest disapproval ratings in US history.
One can easily catch some while walking through the streets around the Times Square, one of the busiest pedestrian intersection in the world on Tuesday as tens of thousands Americans went to polling stations.
"Give me a dollar or I'm voting for Trump," is the sentence written on the cardboard in front of two beggars sitting on east sidewalk of the Square Tuesday morning.
"Please help! Stranded need buss fare to get to Maine. Any thing at all adds up. Please God Bless." Reads another cardboard meters away held by a young couple with their heads ducking behind it.
Against the backdrop of bright billboards and advertisement on skyscrapers, the act of the four serves as a reminder why so many low-income, undereducated whites leaned towards Donald Trump, who has no government service experience but feeds their anger and disappointment towards the so-called traditional politicians.
"They are going fast," said gift shop owner Ahmad, pointing to the T-shirts printed with either Hillary or Trump's cartoon image."15 dollars only."
On one T-shirt, "Trump" is flushed into a toilet with a caption "DUMP TRUMP". On another, below "Hillary" writes "For president, let's make history."
But Ahmad, who immigrated to U.S. from Pakistan more than 20 years ago, said he did not bother to vote on Tuesday. His daughter, ?lander, a college student, said Hillary is more qualified for the country's top post but she did not cast her vote either.
What entices more fun are the Presidential Parody Pet Toys featuring Hillary and Donald in a variety of sizes. Some of them are being hung high on the giant glass window of a gift shop a few blocks west of the Square.
The Hillary toy is the heat to beat with her red pantsuit ablaze, and her fiery gaze fixed on the Oval Office, as the producer's ad goes, fling her into the ring ... and watch the fur fly.
The Donald toy is styling with his golden tan, quaffed plush hair, and flashy garb. His well-heeled foot will inevitably end up in pets' mouth, the ad says
Americans have every reason to try to joke about this year's election as many pundits say it is hard to find a clean spot on either candidate in this campaign of so much mudslinging.
"It's a mistake to think that democracy is 'clean'," said Michael Munger, professor of political science at Duke University, in an interview with Xinhua through email. "In fact, this election is NOT especially dirty, by the standards of history."
for Clinton and Trump, it does show that voters do not trust the two 'major' parties, which have been corrupted by their own power and ability to raise money," Munger said.
The Duke professor might have driven his point home, the tasks including economy, immigration and social issues, are daunting for the new president, whoever wins the painfully long election on Tuesday.
The nonstopping clicking of the National Debt Clock, installed on the Sixth Avenue in Manhattan, silently suggests the not-so-pinky future of the sole superpower. The US national debt has surpassed 19 trillion U.S. dollars, the largest debt in the nation's 240-year history.
The huge amount alone could not be shunned away by any kind of black humor.