S. Koreans reunion with DPRK relatives after 60 years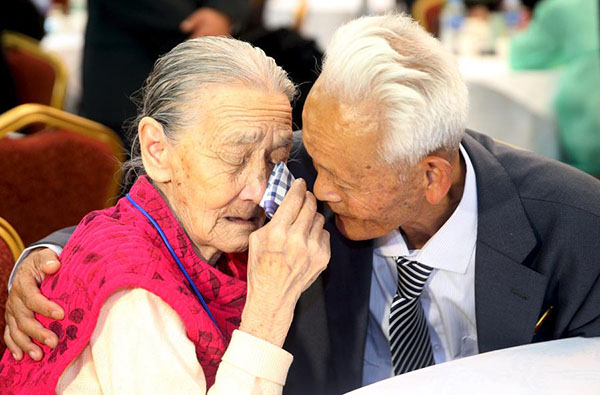 Lee Han Shik (R) of DPRK comforts his South Korean mother Kwon Oh-hee after the separated family reunions at Mount Kumgang resort, DPRK, October 22, 2015. [Photo/Agencies]
SEOUL - Nearly 400 South Koreans crossed the borderline into the Democratic People's Republic of Korea (DPRK) on Tuesday and reunited, in an outpouring of emotions and tears, with family members separated for more than six decades since the 1950-53 Korean War.
The first stage of reunion for families ended on Thursday after a three-day program, including six meetings allowed only two hours each following more than six decades of separation.
For the second round, which will run from Saturday to Monday at the DPRK's scenic resort of Mount Kumgang, nearly 400 South Koreans from 90 families were selected to meet their 200 DPRK long-lost relatives.
All of the South Korean participants arrived in Sokcho city Friday, near the demilitarized zone in the northeast region, by Friday to prepare for the upcoming meeting over the weekend.