Dozens killed in bomb, gunfire attacks in southern Iraq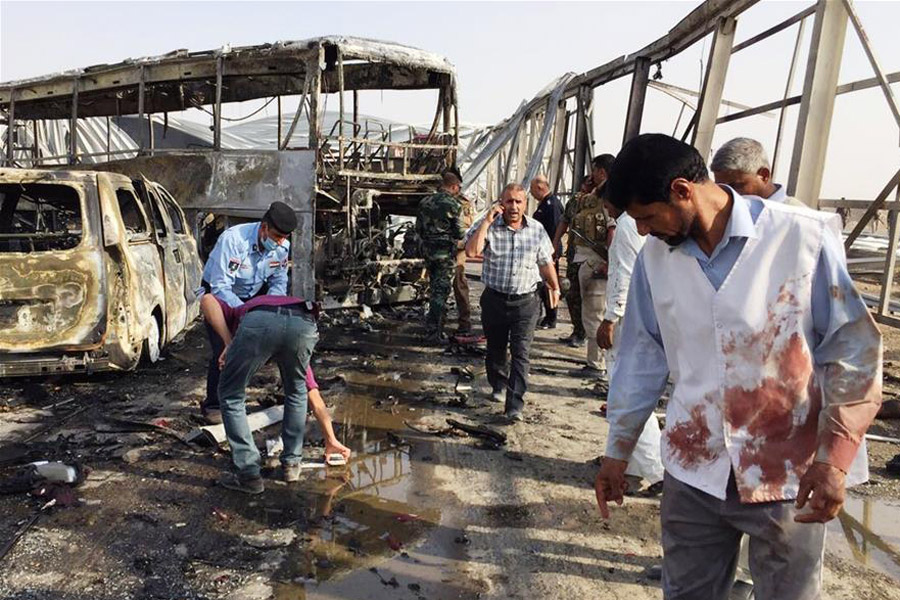 People stand beside at the site of the attacks in west of the city of Nasriyah, in Iraq's southern province of Dhi Qar, Sept 14, 2017. [Photo/Xinhua]
BAGHDAD - Up to 50 people were killed and some 87 others wounded on Thursday in a car bomb and a gunfire attacks near the city of Nasriyah in Iraq's southern province of Dhi Qar, a provincial medical source told Xinhua.
"The latest reports showed that some 50 people were killed and more than 87 others wounded in the car bomb and gunmen attacks in Fadak area," Jasim al-Khaledi, head of the provincial health department said.
The attacks occurred in the afternoon when unidentified gunmen attacked a restaurant at Fadak area in west of the city of Nasriyah, some 375 km south of Baghdad, while a car bomb detonated at a security checkpoint near the attacked restaurant, according to a provincial security source.
Earlier the source put the dead toll at seven, including three Iranians, and said 20 others were wounded by the two attacks.
The attacks came as the Iraqi Prime Minister Haider al-Abadi paid a visit to the province and met with the provincial government and some tribal leaders.