SELL RATING
Investor enthusiasm for the microblogging company defied traditional valuation analyses. The shares traded at about 22 times forecast 2014 sales, nearly double the multiple at social media rivals Facebook and LinkedIn Corp, even though Twitter is far from turning a profit and posted a loss of almost $70 million for its most recent quarter.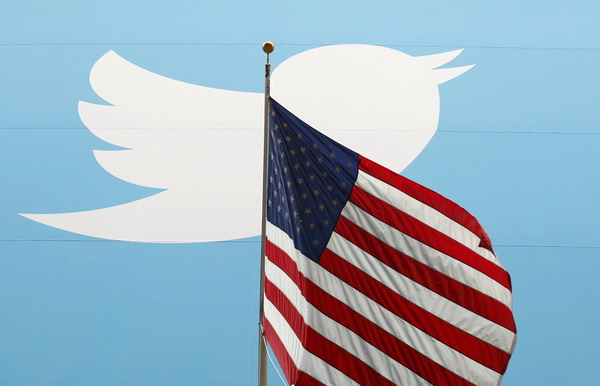 The Twitter Inc. logo is shown with the U.S. flag during the company's IPO on the floor of the New York Stock Exchange in New York, November 7, 2013. [Photo/Agencies]
The hefty valuations were cause for celebration for Twitter insiders and venture capital backers, such as Union Square Ventures, Spark Capital and Benchmark Capital. But some analysts warned that a correction may be in store.
"With a price that pushes into the high 30s and beyond, Twitter is simply too expensive," Pivotal Research's Brian Wieser wrote in a note cutting his rating on the stock to "sell" from "buy".
"One way to justify a $45 price in our model would involve presuming that Twitter could generate more than $6bn in annual revenue by 2018. However, we think that would seem overly optimistic."
Fund managers who got small allocations at the IPO were hopeful the stock would trade down after Thursday's pop.
"We have a target of $40 and we won't buy more as long as it is trading above that," said Mark Hawtin, portfolio manager of the GAM Star Technology Strategy.
Jerry Jordan, manager of the $48.6 million Jordan Opportunity Fund, who got a small allocation, said he would buy more of Twitter if it trades down around $30-$35.
"A lot of these sexy IPOs have a big pop on the first day and then they grind sideways," Jordan said.
INTERNATIONAL GROWTH
As Twitter's stock soared after the opening, the company's market value, including restricted share units and other securities that could be exercised in the coming months, was over $28 billion.
The company said in its investor prospectus that more than three-quarters of its users are outside the United States. Despite its early reputation as a hangout for Silicon Valley early adopters and tech geeks, some of its most active markets now include Japan, Indonesia, Brazil and Saudi Arabia.
Twitter CEO Dick Costolo is interviewed before the Twitter Inc. IPO on the floor of the New York Stock Exchange in New York, November 7, 2013. [Photo/Agencies]
The fast-moving, mobile service was credited with fueling popular protests that upended the Arab world in 2011. It served as a lifeline to the outside world for its users during natural disasters like Hurricane Sandy, and also instantly relayed news such as early rumblings of the 2011 U.S. raid on Osama bin Laden's compound in Pakistan.
"Twitter has, when coupled with the increasing distribution of smart phones and reach of the Internet, an impact on global connectivity and transparency," said P.J. Crowley, the former U.S. State Department spokesman. "It has definitely contributed to the acceleration of the news process and helped to expand the availability of information sources to a wide range of people."
The three most-followed accounts belong to a trio of pop stars: Katy Perry, Justin Bieber and Lady Gaga. U.S. President Barack Obama comes in fourth.
The 140-character messages have spawned an Internet culture of its own. The "hashtag," a pound symbol devised by early Twitter users to denote the topic of a conversation, has became ubiquitous, with the word even becoming an ironic expression parodied by the likes of "Saturday Night Live."
Twitter's successful debut is likely to stoke interest in other up-and-coming consumer Internet companies such as ride service Uber, scrapbooking site Pinterest, accommodation service Airbnb and the payment start-up Square, all of which boast private-market valuations well north of a billion dollars and could go public in the coming years.
Kevin Hartz, CEO of Eventbrite and an early investor in Pinterest and Airbnb, said the IPO floodgates might open now.
"The pendulum is swinging back in a surprising way," Hartz said. "There's a pent-up supply of a lot of quality companies."
Still, two early social media success stories, Groupon Inc and Zynga Inc, have suffered major reversals since going public. Groupon, despite big gains in its shares this year, still trades at less than half its 2011 IPO price. Zynga is worth about a third of its 2012 IPO price.
And first-generation social media firms such as MySpace have all but vanished as fickle users moved on to the next big thing.