The CPC Third Plenary Session set to deepen reform
Updated: 2013-10-25 17:29

Editor's Note: The previous Third Plenary Sessions of the Central Committee of the ruling Communist Party of China (CPC) in the past three decades introduced major reforms that were pivotal to the country's development. The 18th CPC Central Committee, composed of more than 200 senior Party officials, will convene its third plenum on November 9 - 12 to discuss major economic and social issues concerning comprehensive reform. Here, in this special coverage, China Daily Website takes a look at the major issues that might top the agenda at the upcoming meeting.
Latest news

Third Plenum to focus on reform

Experts said they expect the meeting to set China's economic agenda.

Analysts and industry insiders call for deepened financial reform to guarantee healthy economic growth.
Why this is important
Chinese Premier Li Keqiang has repeatedly called for urbanization, saying at a news conference of the National People's Congress that it's an inevitable trend. Therefore policies to step up the process are highly expected to be announced at the upcoming Party meeting in November.
However, who will benefit from urbanization rests on the reform of hukou, or the household registration system, which is the cornerstone of the urban-rural "two-layer class system." Hukou identified many migrant workers as outsiders in the cities where they contributed with hard work, thereby depriving them of many benefits that the permanent urban residents are entitled to.

What to expect

It's easier to say than to do. The reform of hukou would touch the nerve of vested interests and might be the last straw for local governments, who are already struggling with their balance sheets and can hardly afford the expenditures the reform would generate.
The financial conundrum for local governments is intertwined with tax policies and land sales. This leads to the next two areas where public expectation is high - land policy reform and fiscal reform. [More]
Why this is important

Selling land has been the primary contributor to the revenues of many local governments, which gradually found themselves in financial difficulties with diminishing amounts of land available for sale.

The fast urbanization trend also demands more land for residential, commercial and industrial use.

What to expect

Media reports continue to fuel speculations that the time for a breakthrough has arrived with stories citing experts. Some called for breaking the local governments' monopoly on land transfer.

Land reform will be one of the agendas at the Party conference if things go as expected, said China News Weekly, quoting a source from the Ministry of Land and Resources.

A framework would be worked out to pave a path for future reforms, but specific measures will be hard to detail as it will be a national reform, said the source, with indications it's a complicated issue entangling multiple sides and concerns. [More]
Why this is important

China introduced a tax-sharing system in 1994 to increase the central government's tax revenue. Under the tax overhaul, value added tax - the single largest source of Chinese government revenue - was shared between the central government (75 percent) and local governments (25 percent).

The fast urbanization trend also demands more land for residential, commercial and industrial use.

Mounting debts have become the Sword of Damocles for local governments, of which the financial accounts have been left in the red after years of fervor for infrastructure investment.

What to expect

Adjustments to tax revenue sharing among different levels of government are expected to be discussed at the meeting.

Tax on resources and expansions of property tax can also be on the agenda, Jia Kang, director of the Research Institute for Fiscal Science under the Ministry of Finance told The Wall Street Journal. [More]
Why this is important

The newly-opened Shanghai Free Trade Zone (FTZ) created some excitement as it was billed as a testing ground for broader financial freedom.

The much-debated calls for looser financial controls are gaining momentum as the Chinese economy's slowing growth rate raised expectations the world's second biggest economy can sustain its growth by facilitating its real economy.
Small and medium enterprises (SMEs) have been ill-funded, given that bank lending favored State-owned enterprises. Bank lending also leaned toward real estate-related companies and local government funded projects.

What to expect

Well-flagged expectations include the possible removal of caps on deposit rates, which are still fixed by the central bank, after China allowed banks to decide their own lending rates in July.

Specific measures are awaited to make Shanghai FTZ a vanguard to internationalize the yuan and open up capital flow.
China should develop small-sized banks and financial institutions which specialize in SMEs' financing, according to Zhang Monan, a researcher from China Center of International Economic Exchanges. [More]
Why this is important

For those who want to start their own businesses, they might have to file an application 11 times before getting a license, CCTV reported. Do we need more reasons to demand government efficiency?

What to expect

The Party's political bureau adopted plans to streamline local governments at a meeting on Aug 27. Likely topics include restricting the government's intervention in the market economy.

Cracking down on corruption, which gained momentum this year, is regarded as the prelude to tougher measures that are likely to be part of political reform. [More]
Why this is important

Air pollution has become the talk of the town in Beijing, which has been increasingly shrouded by heavy smog.

Beijing is not alone, however, on the list of cities which made the headlines for the hazardous haze, with Zhengzhou in Henan province and Harbin in Heilongjiang province joining the heavily polluted zone.

What to expect

Specific measures are expected to be one of the topics at the meeting in November, providing a feel-good factor to businesses involved in the treatment of air, water and soil pollution. Don't be surprised by their good performance on the stock market, business insiders said. [More]
Why this is important

Chinese families have always believed that education opens the door to a successful career and life. Especially, for many, gaokao, or the national college entrance exam, may be the only way to improve their future. But for a long time, the exam has been hotly debated over its effectiveness and equality, for example, for children of migrant workers.

What to expect

"Instead of promoting a uniform reform plan across the country, the Ministry of Education will grant provinces the ability to reform the examination in accordance with their own actual situations," Wu Yingmin, vice-president of the Chinese Society of Education, told Yangcheng Evening News.

Examination subjects, scoring systems and admission should be decided by provinces themselves, Wu, who was attending an education forum on Friday in Sun Yat-Sen University, Guangzhou, Guangdong province, told the newspaper.

He also suggested that colleges should have a bigger say in admitting students according to their own requirements. Different requirements and standards will make the training more diversified. [More]
Infographic - Migration & Urbanization
Previous Third Plenary Sessions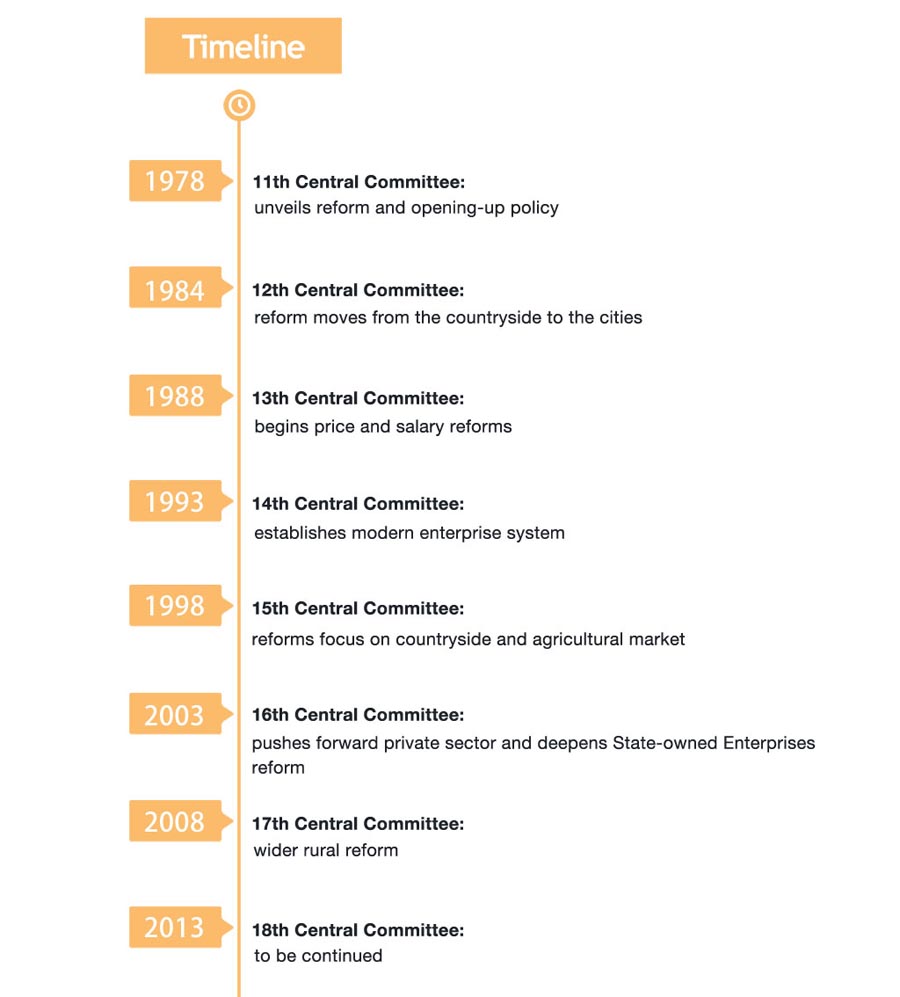 ...