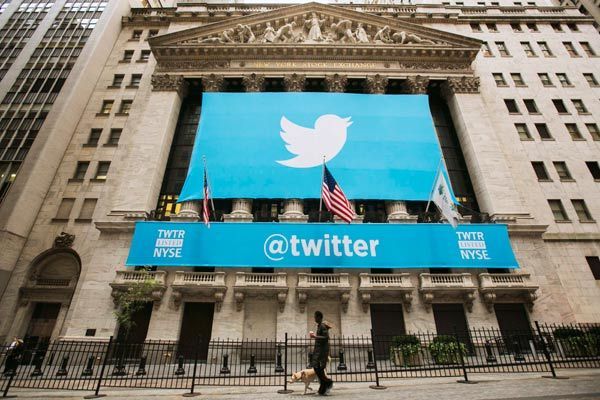 A sign displays the Twitter logo on the front of the New York Stock Exchange ahead of the company's IPO in New York, November 7, 2013. [Photo/Agencies]
NEW YORK - Twitter Inc soared as much as 92 percent in its first day of trading on Thursday on the New York Stock Exchange as investors snapped up shares in the popular microblogging site in a frenzy that recalled the days of the dot-com bubble.
The shares opened at $45.10 a share, up from the initial public offering price of $26 set on Wednesday, then added to those gains, hitting a high of $50. They were up 73.7 percent to $45.15 at midday.
Sources said the flotation drew strong demand, with investors asking for 30 times the number of shares on offer as they bet on potential growth at the money-losing social media company.
The opening price valued the shares at about 22 times forecast 2014 sales, nearly double that multiple at social media rivals Facebook Inc and LinkedIn Corp.
The shares opened 75 percent above the $26 initial public offering price set on Wednesday, making it the biggest in a series of huge opening day "pops" for IPOs.
Including restricted share units and other securities that could be exercised in the coming months, the company's market value was over $28 billion.
Twitter executives including Chief Executive Dick Costolo and the company's three co-founders - Evan Williams, Biz Stone and Jack Dorsey - went to the floor of the NYSE to witness the IPO. The Big Board, which marked the occasion with an enormous banner with Twitter's bird logo along its Broad Street facade, snatched the offering away from Nasdaq after the normally tech-focused Nasdaq stumbled with the larger Facebook flotation last year.