NEW YORK/SAN FRANCISCO - Twitter Inc shares jumped 73 percent in a frenzied trading debut that drove the seven-year-old company's market value to around $25 billion and evoked the heady days of the dot-com bubble.
The strong performance on Thursday is encouraging for the venture capitalists who have backed other consumer Web startups, such as Square or Pinterest, though it sounded alarm bells for some investors who cautioned that the froth was unwarranted.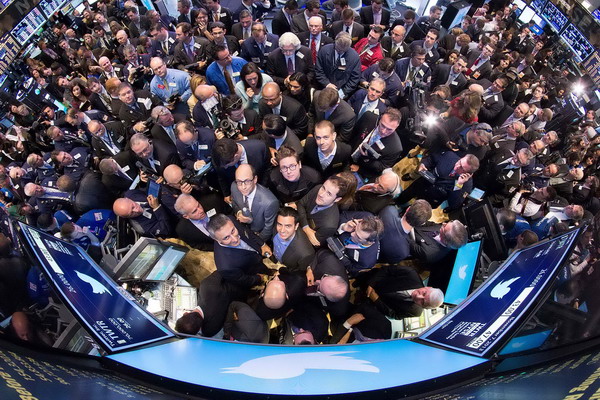 Twitter CEO Dick Costolo (C) stands on the floor of the New York Stock Exchange before Twitter stock goes on sale in New York November 7, 2013. Twitter Inc could face volatile trade in its debut Thursday on the New York Stock Exchange, analysts said, but they remained enthusiastic after the money-losing social media company priced its IPO above the expected range. [Photo/Agencies]
"@twitter opening at $45/share? Almost 50x revenues! We are officially in another tech bubble," tweeted financier and investment advisor Steve Rattner.
The stock closed its first day of trade on the New York Stock Exchange at $44.90 a share after hitting a session-high of $50, nearly double the initial public offering price of $26 set late on Wednesday.
Twitter could raise $2.1 billion if an underwriters' over-allotment is exercised, as expected, making it the second largest Internet offering in the United States behind Facebook Inc's $16 billion IPO last year and ahead of Google Inc's 2004 IPO, according to Thomson Reuters data.
Fans believe that Twitter, which has 230 million users, has established itself as an indispensable Internet utility alongside Google and Facebook, and that it has only scratched the surface of its potential as a global advertising medium.
"When people use Twitter they are following certain people, they're searching for specific information," said Mark Mahaney, an analyst at RBC Capital Markets. "There are powerful marketing signals that are almost Google-esque, something that Facebook doesn't really have."
The IPO was shadowed for months by Facebook's troubled 2012 debut, in which the shares quickly fell below their offering price amid trading glitches and subjected the company and its lead banker, Morgan Stanley, to accusations that they had been greedy in pricing the deal.
Twitter's opening appeared to go off without a hitch, prompting Anthony Noto, the Goldman Sachs banker who led the IPO, to write a simple Tweet: "Phew!"
Still, Twitter may find itself subject to the opposite criticism, that it had priced the shares too low and left more than a billion dollars on the table.
"In my mind they certainly could've raised the price on this thing and gone into the low 30s," said Ken Polcari, director of the NYSE floor division at O'Neil Securities. "From an outsider looking in I would say they were overly cautious because they didn't want a disaster on their hands ... I'm sure the company didn't want a Facebook debacle, I get that, but I think they were overly cautious and it cost them some money."
The 70 million IPO shares represent about 13 percent of the company's common shares. Twitter was the most actively traded stock on Thursday, with around 117 million shares changing hands.
Heavy demand for the IPO was apparent before the final pricing. Twitter was able to price the IPO above an already raised indicative range, and the deal still attracted investor subscriptions that totaled 30 times the number of shares on offer, according to market sources.
IN SAN FRANCISCO
At Twitter's headquarters in San Francisco, offices opened early and hundreds of employees flocked to the 9th floor cafeteria to watch the festivities on TV while eating "cronuts," a croissant-donut hybrid, made by Twitter's resident chef, Lance Holton.
The IPO is the latest milestone for a service that was born out of a nearly-defunct startup in 2006 and was derided by many in its early years as a silly fad dominated by people talking about what they had for breakfast.
But Twitter quickly began to penetrate popular culture in unexpected ways, with its open design and broadcasting format attracting celebrities, athletes, politicians and anybody who wanted to share short, punchy thoughts with a digital audience.
Its business potential developed more slowly, and the company appeared to be floundering as recently as three years ago, when it was riven by management turmoil and frequently crippled by service outages.
Under Dick Costolo, who took over as CEO in October 2010, Twitter has rapidly ramped up its money-making engine by selling "promoted tweets," messages from marketers that are distributed to a wide-ranging but targeted group of users. In the third quarter, Twitter had $168 million in revenue, it said, more than double from a year prior.
The NYSE, which snatched the listing away from its tech-focused rival, Nasdaq, marked Twitter's debut with an enormous banner with the company's blue bird logo along its Broad Street facade.
British actor Patrick Stewart, of Star Trek fame, rang the opening bell at the Big Board together with nine-year-old Vivienne Harr, who started a charity to end childhood slavery using the microblogging site.
"I guess I represent the poster boy for Twitter," Stewart said, adding that he had only been tweeting for about a year.
Costolo and Twitter's three co-founders - Evan Williams, Biz Stone and Jack Dorsey - appeared on the packed exchange floor to witness the beginning of trade.
At current valuations, the stakes owned by Williams and Dorsey would be worth around $2.7 billion and $1.1 billion, respectively. Costolo, who invested $25,000 in the fledgling company in 2007, holds a 1.4 percent stake worth about $360 million.