ZTE aims for the top in Canada
Updated: 2013-11-08 06:15
The Canadian market for communications and information products may seem small compared to others, but ZTE Corporation — China's global provider of telecommunications equipment, network solutions, and mobile devices — sees a bigger picture, a massive potential here.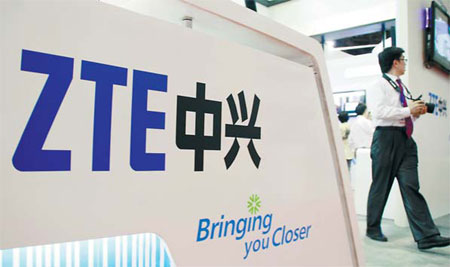 A ZTE Corp stand at an international smart cards and radio frequency identification exhibition in Beijing. The telecom company forecast a net loss of up to 2 billion yuan ($318 million) in the third quarter of the year, compared with 299 million yuan in profits in the same period of 2011. Wu Changqing / for China Daily 
ZTE Canada Inc, one of 107 overseas branches of ZTE, set up shop in Canada 10 years ago. It finds the local market a progressive and straightforward place to do business, with less intense competition than in China and the US and a more open government. And it is poised to expand here.
Successful in the US and ranked as the world's fourth largest mobile phone supplier, ZTE has been working to bring all of its high-end technology products and services to the Canadian market.
ZTE Canada president and CEO Denson Xu told China Daily, "Our presence here is small, but we are expanding. We see tremendous potential in the Canadian market, and are excited about the opportunity for growth here."
In an interview at ZTE Canada headquarters in Toronto, Xu said the company's strategy is to build on its B2B2C (business to business to consumer) focus by providing affordable mobile products as it evolves its presence in Canada.
"This kind of market is quite large in itself and our target is 10 percent of market share," Xu said, adding that there are always concerns over returns on investment in Canada when such returns in the US are 10 times greater.
ZTE Canada has partnered with major Canadian telecommunications carriers, including TELUS and Rogers, and has mobile devices planned with both of them. ZTE Canada is the first Chinese OEM to launch mobile phones into the Canadian market. Its first phone premiered here in 2005 with TELUS, and was a milestone event for ZTE.
"In 2009, we were selected as a partner to provide equipment for a new carrier, Public Mobile. We provided end-to-end solutions from billing systems to mobile network infrastructure, devices and services. We are very proud to support Public Mobile in its efforts to offer the most affordable products to Canadian customers," Xu said.