Bangladesh defends decision to snub foreign aid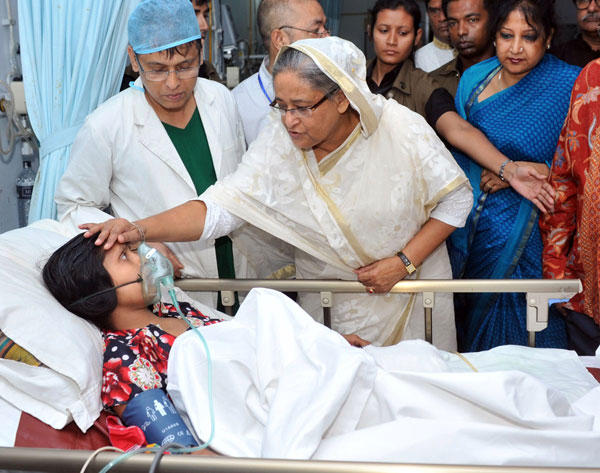 Bangladesh's Prime Minister Sheikh Hasina comforts a garment worker as she visits the survivors of the collapsed Rana Plaza building at a hospital, in Savar, 30 km outside Dhaka April 29, 2013. [Photo/Agencies]
Bangladesh on Tuesday defended its decision to snub foreign aid after the collapse of a factory complex as anger flared at the recovery operation and toward the building's owner when he appeared in court.
With the death toll from the country's worst industrial disaster now standing at 382, Western retailers offered compensation to the victims of last Wednesday's tragedy on the outskirts of the capital, Dhaka.
The government announced plans for another blitz of inspections after it came under pressure from Western brand names for a "credible" safety regime in an industry that has a shocking record of disasters.
While foreign aid has been a regular feature of rescue efforts following other large-scale disasters, the Bangladeshi government decided it could handle the situation on its own.
"The need for immediate foreign assistance was not felt because our rescue operation has been sufficient and exemplary," Home Secretary Mustak Ahmed told AFP, adding that the government was "grateful" for the offers from Britain, among others.
Although the exact number of people still missing is not known, there were around 3,000 workers on shift at the time of the disaster, and more than 2,400 were rescued from the ruins.
"Our army, firefighters, police and volunteers did a very good job. We also have enough equipment," Ahmed added.
However, distraught relatives who have stayed at the site of the disaster for news were becoming increasingly critical of the recovery operation, fearing that the bodies of their loved ones could be damaged.
Rescuers began using heavy lifting equipment, including cranes, on Monday for the first time after determining that there was little chance of finding anyone else alive in the tangle of concrete.
"Our target is to complete the rescue work as fast as possible," armed forces spokesman Shahinul Islam told AFP. "But we're doing things carefully. Some dead bodies could still be seen under the rubble."
But Yunus Khan, who was among a group of around 100 people still awaiting news at the site, said he feared "the use of this heavy equipment will dash any chances of recovering the bodies".
"The equipment will flatten the bodies," he said. "We want a manual search in the way that they have been doing things from the beginning."
Grieving relatives have also turned their anger on the owner of the eight-storey building, Sohel Rana, who appeared in court late on Monday after being detained on the border with India.
There were chants of "Hang Rana, Hang the killer" as he was brought before the court in Dhaka.
Agence France-Presse