Hollande vows to boost employment, economy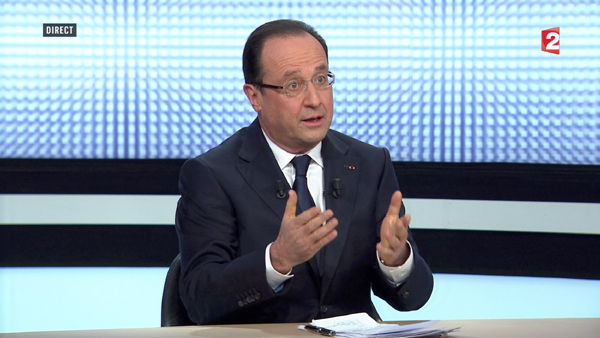 French President Francois Hollande, in this still image taken from video from France 2 television, appears during their prime time news broadcast at their studios in Paris March 28, 2013. [Photo/Agencies]
PARIS - French President Francois Hollande said Thursday night that his priority is to tackle unemployment, the biggest headache for the Socialist government since he took office 10 months ago.
In a live television interview on France 2, Hollande reiterated his commitments to the French people although his popularity plummeted in latest poll surveys and the country's economy continues to deteriorate.
He stressed that his duty is to restore growth and increase national production and competitiveness to get the country out of the crisis.
"My priority is employment and my course is growth," said the French president, reaffirming that his first task is "to reverse the unemployment curve by the end of the year".
"I will not wait for growth, I will create it," Hollande said.
"My mission is to get France to emerge from the crisis with all means," he said.
The Socialist leader's approval rating dropped to only 22 percent in survey results published on Thursday, the lowest level after he took office 10 months ago.
Latest data released by the labor ministry shows that the unemployment rate in France rose sharply in February, bringing the total of jobless to 3.187 million.
The households spending power also decreased in late 2012 for the first time since 1984 as consumer confidence in economic and financial situations remained lower, according to official statistics.
As Europe's second largest economy, France has targeted 0.8-percent growth this year, and pledged to cut its deficit to 3 percent of GDP. But with a sluggish domestic job market, the Socialist government faces a great challenge to boost job and create growth.
Hollande has publicly anticipated that it is impossible to cut the public deficit to 3 percent of the GDP as required by the European Union, and he made a prediction of 3.7 percent. He also said this year's economic growth would be short of 0.8 percent but gave no new figure.
Hollande also said Thursday that companies will pay 75-percent tax on their employees' salaries exceeding 1 million euros ($1.28 million).
"In 2013, we will make savings so as not to ask the French people for more effort," he said in a television interview on France 2.
In 2014, "there will be no more increase other than the already announced VAT, nor new taxes," the president said.
As a campaign proposal, Hollande vowed to levy 75-percent tax on incomes above 1 million euros to fund the country's sluggish economy, but the bill was rejected by the constitutional council.
So this time Hollande decided to shift the tax to companies, hoping that companies would cut executive salary for two years.
As for defense budget, the president said there will be no change on that. "We will spend exactly the same amount in 2014 as we did in 2013," he said.
He announced that France will cut its troops in Mali to 2,000 by July and to 1,000 by the end of the year.
"We have achieved our goals: to stop the terrorist attack and conquer cities they have occupied," he said.
He said he also wants to see "elections in Mali before the end of July" and "all parties in the Malian society must be represented."