Russia launches manned spacecraft to ISS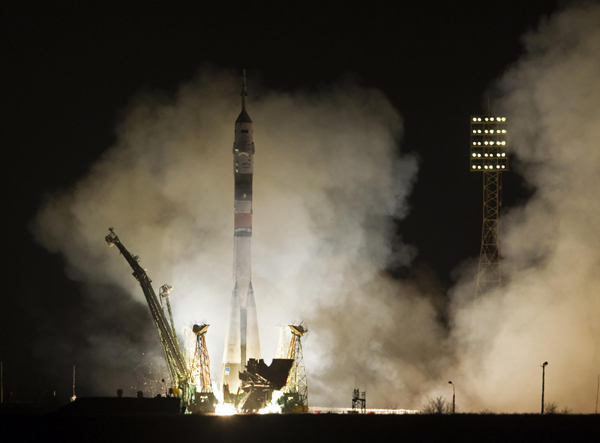 The Soyuz TMA-08M spacecraft carrying the International Space Station (ISS) crew of US astronaut Chris Cassidy and Russian cosmonauts Pavel Vinogradov and Alexander Misurkin blasts off from the launch pad at the Baikonur cosmodrome in Kazakhstan, March 29, 2013. [Photo/Agencies]
MOSCOW - A Russian Soyuz spaceship with three crew members onboard blasted off Friday from the Baikonur space center in Kazakhstan, Russia's space agency Roscosmos reported.
Live webcast showed the Soyuz-FG rocket, carrying the Soyuz TMA-08M spaceship, was launched from the space center at 00:43 Moscow time Friday (2043 GMT Thursday).
Carrying Russian cosmonauts Pavel Vinogradov and Alexander Misurkin and the NASA astronaut Christopher Cassidy, the spaceship is scheduled to dock with the International Space Station (ISS) only six hours or four rotations around the Earth after the launch by a "bee-line" scheme, said the space agency.
Currently, the 35th expedition working on the ISS includes Canadian, Russian and US members.