I made a 'moral error', Strauss-Kahn says
Updated: 2011-09-19 06:18
(Agencies)
| | | | | | | | | | | |
| --- | --- | --- | --- | --- | --- | --- | --- | --- | --- | --- |
|   | | Comments() | | Print | | Mail | | Large Medium  Small | 分享按钮 | 0 |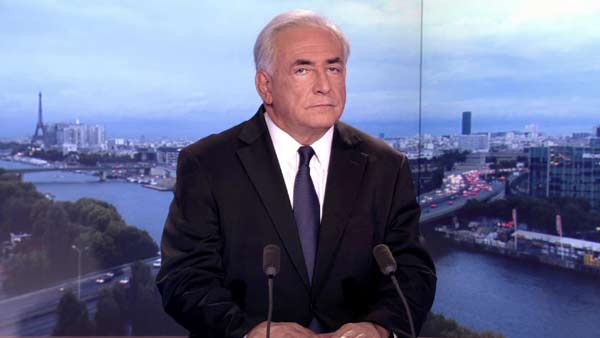 Dominique Strauss-Kahn, former International Monetary Fund chief (IMF), in this still image taken from TF1 television footage, appears on their prime time news programme in their studios in Boulogne-Billancourt, near Paris, September 18, 2011.[Photo/Agencies]
PARIS - Dominique Strauss-Kahn apologised to his country on Sunday for a sexual encounter with a hotel maid he said was a "moral error" he would regret all his life, and vowed to stay out of the Socialist Party's 2012 election campaign in France.
In his first interview since a New York sex assault case derailed his IMF career and wrecked his chances of running for president, Strauss-Kahn said he was angry with himself for what he called an ill-judged but consensual liaison that had let down his country and hurt his family.
"It was a moral error, and I am not proud of it," Strauss-Kahn said in an interview on TF1's primetime Sunday evening TV news programme, watched by millions. "I regret it, infinitely, and I don't think I am finished with regretting it."
Sounding repentant but also defensive over the rush to judge him as a criminal for a private act he said involved no violence, the former International Monetary Fund head said he had "lost everything" over the incident.
Once seen as the left's best chance of winning power in the April 2012 election, Strauss-Kahn returned to France on September 4 after a New York prosecutor dropped attempted rape charges related to his nine-minute encounter with a Sofitel hotel maid.
Dressed in a dark suit and sober midnight-blue tie, with a tightly buttoned shirt and neatly combed hair, his appearance on Sunday was a far cry from the dishevelled, unshaven prisoner paraded before cameras in handcuffs after his mid-May arrest.
He was also a different man from the poised, erudite IMF chief and ex-finance minister who has addressed the world from hundreds of high-profile podiums over the years.
Dry-mouthed, nervous and clearly uncomfortable, he joined a string of powerful men from former U.S. president Bill Clinton to ex-congressman Anthony Weiner to publicly apologise for a sexual peccadillo. He told TF1 interviewer Claire Chazal, a friend of his wife Anne Sinclair, that he was a changed man.
"I have paid heavily for it. I am still paying for it. I have seen the pain I have caused around me and I have reflected deeply," Strauss-Kahn told Chazal, who also seemed ill-at-ease, keeping her arms tightly crossed throughout the interview.
"Sexual deviant"
The attempted rape charges were dropped late in August after doubts arose over the hotel maid's credibility. Strauss-Kahn's lawyers had said from the start that the brusque encounter with the Guinean maid in his luxury suite was sexual but consensual and non-violent.
Strauss-Kahn, 62, added on Sunday that it had not involved any payment.  
Rather than gloss over the scandal and focus on restoring his credibility as a world economic authority, as many had expected, Strauss-Kahn spent most of the interview expressing his regret and defending his innocence, speaking only briefly about the euro zone crisis.
"What happened was not only an inappropriate liaison but more than that, an error vis-a-vis my wife, my children, my friends and the French people," he said.
Strauss-Kahn took a strongly defensive tone at times, holding up a copy of the prosecutor's report and stressing that it ruled out signs of force during the encounter, which saw him seek oral sex from the maid moments after she entered his room.
Known in France by his initials DSK, Strauss-Kahn told TF1 he would take time to reflect on what to do with his career.
"I wanted to be a candidate (for the election). I thought I could be useful. All that is behind me," he said. "I don't think it's my role to get involved in the (Socialist) primary."
"I am going first of all to rest, spend time with my loved ones, take time to think. But my whole life has been dedicated to trying to be useful for the public good and we will see."
Strauss-Kahn's arrest set off a wave of muck-raking of his extramarital dalliance and sparked soul-searching in France over a tradition of hushing up sexual escapades by politicians and other public figures.
A group of feminists gathered outside TF1 before the interview, brandishing signs reading "What's seduction for you?" and "DSK, sexual deviant, King of the chimps".
Strauss-Kahn's political allies have cheered his release but the Socialist Party has moved on and is holding its primary selection contest without him. Party leaders have sounded lukewarm over him taking a role in their 2012 campaign.
An Ifop opinion poll in Sunday's Journal du Dimanche newspaper found that 53 percent of those surveyed want Strauss-Kahn to retire from politics. Other polls have found that two-thirds of French want him to stay out of the left's campaign and not hold a position in a future left-wing government.
Strauss-Kahn still faces a civil case in New York over the incident at the Times Square Sofitel, and has been questioned in France over a separate sexual assault accusation dating back to 2003 by a woman 30 years his junior .