Police have rounded up 36 suspects who are believed to be from seven fraud gangs, after officers were tipped off by the world's largest business-to-business e-commerce company.
Alibaba.com Corp helped solve 281 fraud cases involving more than $6.6 million, said police in Hangzhou, capital of Zhejiang province.
Most of the suspects were college-educated and had strong language skills as well as computer proficiency, police said at a news conference in Hangzhou.
Yu Weimin, an investigator in the criminal investigation department at Hangzhou public security bureau, said the suspects' knowledge of foreign languages, international trade and computer skills helped them carry out their frauds on the company's global e-commerce platform.
The arrests followed Alibaba.com receiving complaints from many overseas buyers who said they had placed orders and paid but had not received their purchases.
Alibaba.com found that about 1,219 people registered as a "supplier from China" in 2009 and by 2010, 1,107 of them had been found to be fraudulent.
In 2010, a buyer from Argentina searched worldwide for suppliers of model aircraft accessories and found a supplier in China through Alibaba.com that quoted a price that was one-third of the market price. The buyer paid $1,400 after negotiations with the supposed supplier via the online platform. However, the buyer never received the items he paid for and reported the incident three months later.
Alibaba.com later found that the supplier was fraudulent, acknowledged the scam and reported it to police. The website's chief executive and COO also resigned.
China established an investigation team in March and the 36 suspects were arrested in Hangzhou and Putian, Fujian province, in April. As many as 35 computers, 60 identity cards, 137 bank cards and three cars were confiscated. About 6 gigabytes of electronic information was also collected as evidence.
So far, police have tracked down 208 overseas victims.
The scammers allegedly purchased supplier accounts illegally and registered as a "supplier from China." They also forged identification cards to apply for bank accounts.
After obtaining supplier accounts, the fraudsters claimed to be selling popular items at low prices and pocketed payments without ever posting any goods, according to Hangzhou police.
Alibaba.com has paid $1.94 million in compensation to the overseas victims and has adjusted its efforts to keep online fraud at bay.
Questions:
1 How many were arrested in e-commerce fraud?
2 How much was involved in the cases?
3 Who are the suspects?
Answers:
1. 36 suspects believed to be from seven fraud gangs
2. 281 fraud cases involving more than $6.6 million
3. Most are college-educated and have strong language skills as well as computer proficiency
(中国日报网英语点津 Julie 编辑)

About the broadcaster: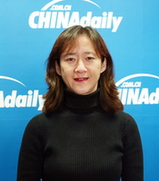 Nelly Min is an editor at China Daily with more than 10 years of experience as a newspaper editor and photographer. She has worked at major newspapers in the U.S., including the Los Angeles Times and the Detroit Free Press. She is also fluent in Korean