Mooncakes leave a tax taste in the mouth
Updated: 2011-08-29 07:35
By An Baijie (China Daily)
| | | | | | | | | | | |
| --- | --- | --- | --- | --- | --- | --- | --- | --- | --- | --- |
|   | | Comments() | | Print | | Mail | | Large Medium  Small | 分享按钮 | 0 |
BEIJING - When Wang Youhua heard that his company was giving him a pack of moon cakes to celebrate the coming Mid-autumn Day festival, you might think he was full of cheer. Instead he is bristling over the fact that the cakes, valued at 300 yuan ($47), will land him a bill of at least 60 yuan from the tax authorities.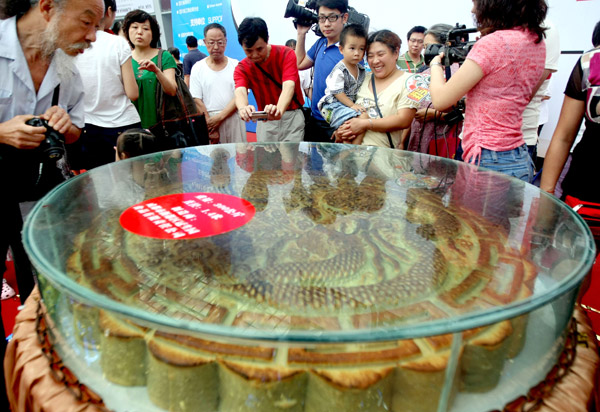 Visitors look at a huge moon cake exhibited in a food fair in Chengdu, Sichuan province, on Sunday. [Photo /China Daily]
Wang, who works for an IT website in Beijing and has a monthly salary of 10,000 yuan, said that until he had read a news report he was unaware that the cakes were taxable.
"Since when are moon cakes taxed?" he said. "I'd rather not receive such benefits if I have to pay tax."
Under long-standing tax regulations, in-kind benefits that employees receive are taxed according to their market value. Under the regulations, workers are liable to pay tax for such benefits if their monthly income surpasses the tax-free threshold.
A month ago the State Council announced income tax law changes that will come into force on Sept 1, raising the monthly tax exemption from 2,000 yuan to 3,500 yuan, and changing other tax brackets.
However, rules on in-kind benefits are unchanged.
In Wang's case, if the moon cakes are taxed under the old rules he will have to pay 60 yuan; if they are taxed under the new rules he will have to pay 75 yuan.
"Moon cake tax" became a buzz phrase on the Internet after the Beijing newspaper the Mirror Evening News reported on the ramifications of the tax changes on Friday.
In a poll by weibo.com, which had attracted more than 5,000 respondents by Sunday afternoon, 96 percent of those answering said they oppose moon cakes being taxed.
Most workers are unaware of such a tax, believing the moon cakes to be a benefit, with no strings attached, a report of China National Radio said.
An opinion piece on Sunday in the Qilu Evening News, in Jinan, East China's Shandong province, said authorities had never explained the tax implications of giving moon cakes, so they were responsible for public ignorance on the matter.
The cakes are subject to consumption tax when they are bought, so should not be taxed again when given to workers as a benefit, said an article on people.com.cn, the website of People's Daily.
Wei Yan, of the Tai'an office of the State Administration of Taxation in Shandong province, told China Daily that the local tax bureau had taxed in-kind benefits since the regulation was enacted in 1994.
"All in-kind benefits, such as gasoline cards and moon cakes, are taxed as part of the individual income according to the regulation.
"Most large companies report the in-kind benefit to the tax bureau, but many small and middle-sized companies don't. It's difficult for the tax bureau to police."
Wang Yi, of the Beijing Folklore Association, said the rules on taxing moon cakes were highly regrettable because the Mid-autumn Day festival was meant to be "heart warming for the union of the family".
Wang Youhua, the IT worker, said that the high valuation put on moon cakes also made him reluctant to receive the benefit.
"The value of a '300 yuan' moon cake is really less than 50 yuan, but I have to pay at least 60 yuan tax on it. It's a financial burden rather than a benefit."