Lights out for TV program Super Girl
Updated: 2011-09-19 06:46
By Cheng Yingqi (China Daily)
| | | | | | | | | | | |
| --- | --- | --- | --- | --- | --- | --- | --- | --- | --- | --- |
|   | | Comments() | | Print | | Mail | | Large Medium  Small | 分享按钮 | 0 |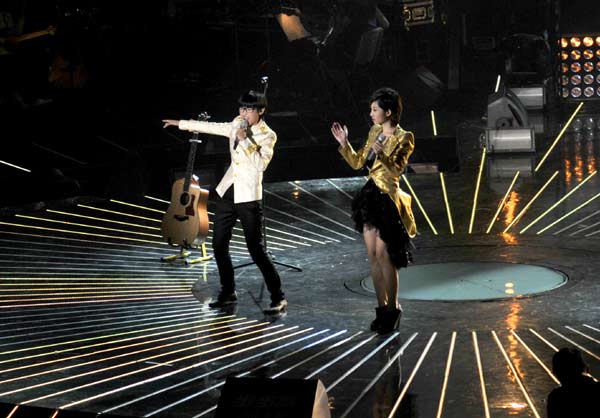 Duan Linxi (left) and Hong Chen compete in the national final round of Super Girl, a popular talent show broadcast by Hunan Satellite Television, on Sept 16. Duan, who is from Yunnan province, won the national championship. MING XING / XINHUA
BEIJING - Hunan Satellite Television (HST) said it will not hold popular talent shows next year after the authorities said the channel violated a broadcasting time limit for Super Girl, one of the country's most popular TV talent shows, similar to American Idol.
Since some of this year's programs exceeded the maximum duration allowed by the State Administration of Radio, Film and Television (SARFT), "we received notification from the administration that we cannot make selective TV trials with mass involvement of individuals in the year 2012", Li Hao, deputy editor-in-chief and spokesman of the channel, confirmed to China Daily on Sunday.
"Hunan Satellite Television will obey the State regulator's decision and will not hold similar talent shows next year. Instead, the channel will air programs that promote moral ethics and public safety and provide practical information for housework," Li said.
Super Girl was based on an annual national contest held by HST since May 2009. A similar TV talent show that was seen as the forerunner of Super Girl ran for five years and swept through the nation.
Related readings:

The country's broadcasting regulator on Saturday suspended a city TV channel for one month after one of its programs allegedly misrepresented events, magnified family conflict and depicted disrespect toward an elderly parent.
SARFT said in a circular that the movie channel of Shijiazhuang TV in Hebei province had "magnified distorted ethics and moral values" and "caused extremely negative social effects".
On June 29, the channel aired the 36-minute talk show Emotional Codes, which purported to depict real-life scenes involving a husband, his wife and the man's elderly father. During the segment, the son treated his father disrespectfully, at one point berating him and threatening to take him to court over money.
The entire scene was actually scripted, with all three participants paid for their performances by the show's producer, Hebei Jiutian Media Co Ltd.
SARFT held Shijiazhuang TV responsible for failing to screen its programs, misleading the public and tainting the image of radio and TV in its reckless pursuit of ratings.
The channel has been ordered to rectify its wrongdoing and will not be permitted to resume programming until Oct 17, if it obtains consent from SARFT.
China's broadcasting regulator often suspends or orders changes to the content of programs it deems bizarre, vulgar or inappropriate.
Xinhua
This year, the contest began on March 30 and lasted into July, until all the national-final players were selected to go on the air.
However, the first show - aired on July 15 - lasted about 182 minutes, which is 90 minutes longer than the SARFT cap.
"The administration did set a telecast time limit in 2007, but in later approval documents it did not mention the limitation, so we did not attach enough attention to the time at first," said a staff member of the TV station, who declined to be identified.
"Later we received a verbal warning from the administration and we immediately adjusted the telecast time. But in later programs, there were cases where we exceeded (the time by) several minutes," he said.
In 2007, SARFT took several moves to regulate talent shows, including banning TV talent shows in prime time (7:30 pm to 10:30 pm) and limiting the duration of each episode to no more than 90 minutes.
The anonymous staff member also said that the ratings for the contest this year "kept being higher than other TV programs of its kind".
"For me, exceeding the time limit is just an excuse to shut down the TV program, and there would have been other excuses even if the TV station did not make the shows that long," said Jin Yong, a researcher at the Communication University of China.
"I believe the reason that forced the administration to 'regulate' this program is that some television hosts in the program made inappropriate comments and some did not dress properly," Jin said.
"The style might have offended some older viewers, so that the authority warned the TV station with the suspension order to make their program classier."
Under the 2007 regulations, SARFT stated that some talent show programs were "vulgar" and did not conform to the healthy and positive orientation that TV programs should have.
In 2010, SARFT published regulations on dating shows to curb media hype of money worship.
"These regulations could probably influence the shows in the short term but cannot stop them from developing, because more and more people want to escape from serious issues on TV," Jin said.
In 2007, the administration issued rules intended to uphold high moral standards during the sequel of HST's popular talent contest, Super Boy.
Super Boy, similar in format to Super Girl, was ordered to include only "healthy and ethically inspiring" songs.
The program was also told to avoid "gossip" about the contestants and not to show scenes of screaming fans or tearful losing contestants, as those were believed to be in "bad taste".
Xinhua contributed to this story.
China Daily
(China Daily 09/19/2011 page4)
Hot Topics
Organ transplant bonds mother and son