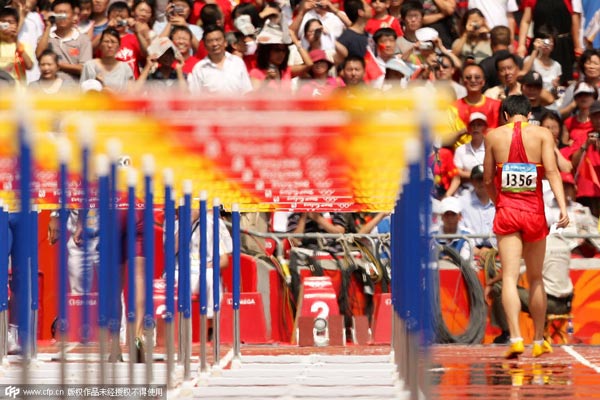 Liu Xiang leaves the track a few minutes' before the first round of the men's 110 m hurdles on Aug 18, 2008. [Photo/CFP]
Why Liu Xiang choose to retire now?
It's already over 900 days since Liu Xiang pulled out of the London Games 110m hurdles. No fans believe he will return to action again as he is 32 years old and is away from races so long, but what makes this much anticipated retirement prolonged?
On February, his coach Sun Haiping said: "Liu Xiang has his first try on wearing track shoes (since London Olympics) on December last year, but his Archilles tendon reacted negatively and we have to give up (seeking return)."
"We will see what his physical condition will be when the climate turns warm. At that time, I think we have to make the final decision (to be back or to retire)," added Sun, implying the consideration of Liu's retirement.
According to Liu Xiang's team doctor, Liu Xiang can manage only 13.50 seconds if he returns, which can not guarantee his qualification for top races.More