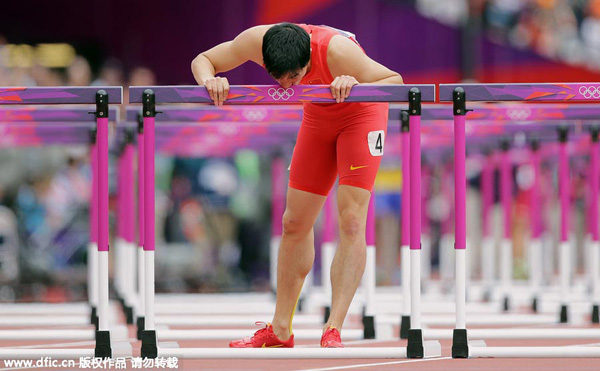 Liu kisses his hurdle after falling in a 110m hurdles heat at the London 2012 Olympic Games, on Aug 7, 2012. [Photo/IC]
"I still remember the day (of the first-round defeat at the 2008 Olympics). All I could feel when I checked in for the race is pain from my foot and my heart. That's why I kicked the mat on the wall so hard that I felt helpless. Why can't I endure the pain? Why didn't all the treatments work? Why did I fail all the expectations of the people?" Liu recalled the struggle before and after the controversial withdrawal.
Liu attributed his chronic injury to the desperate pursuit for elite results, which drove him to keep increasing training intensity and workloads, despite the injury's symptoms that had emerged much earlier before the 2008 Olympics.
"In front of all the successful performances, I just wanted more too hard and too much while neglecting the minor injury, which developed into a serious one that forced me to eventually quit," he said in the statement.
To improve his performance, Liu adjusted his accomplished starting technique in 2011 by saving one step from eight to seven before approaching the first hurdle under the risk of adding extra pressure on his heels.
Liu proved his aggressive new technique worked by winning the Prefontaine Classic in the US in 12.87 seconds, a mark which matched the then-world record held by Cuba's Dayron Robles, albeit with wind assistance.
However, the demanding approach took toll on Liu's fitness, causing the relapse of his right Achilles tendon injury that forced him to pull out of the 2012 London Olympics and eventually ended his athletic career.
"My life has been full of dramas. Even knowing that I would possibly hurt myself, I was determined to race in London as I don't want to be called a coward or the guy who escaped at the last minute," Liu said.
At the moment of him kissing the last hurdle in London marking the final glimpse of his athletic career, Liu has started to envision his post-sports career.
Liu said he will first finish his academic studies at East China Normal University and then focus on working to help improve the fitness of Chinese youth and promote the image of Chinese track and field on the world stage.
"There is no smooth sailing in life. I will carry all the valuable experiences gained in my athletic career to try to fly again in the second part of my life," Liu said.