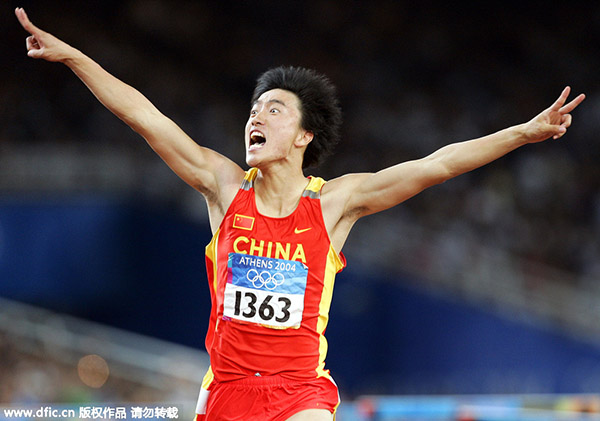 Liu Xiangcelebrates as he crosses the finish line to win the men's 110 hurdles final at the 2004 Olympic Games in this Aug 27, 2004 file photo. [Photo/IC]
China's former Olympic and world champion hurdler Liu Xiang officially announced his retirement in an emotional farewell statement on Tuesday.
Liu, who won the 110m hurdles gold medal at the 2004 Olympics in Athens, said a chronic Achilles tendon injury, which sidelined him from the 2008 Beijing Olympics and 2012 London games, forced him to accept the reality that he won't be able to race at the highest level again.
"I am officially retiring today to say goodbye to my beloved tracks and hurdles," Liu said in the statement posted on his personal micro blog account on Tuesday afternoon.
"It's a well-considered decision but a hard one to make. I've tried all my best to recover from the injury over the past two years since the 2012 London Olympics, dreaming that I could start over again. But my foot denied my attempts over and over again, that I realized I couldn't withstand the high intensity for training and racing. I hate my foot as much as I love my track and my hurdles."
After enjoying a career peak from 2004 to 2007, during which he achieved the "triple crown" of athletics by winning at the Olympics, the world championships in 2007 and setting a then-world record of 12.88 seconds in Lausanne in 2006, Liu's career suffered a major blow. In 2008 he had to withdraw from the first-round heat of the 110m hurdles at the 2008 Beijing Olympics due to a torn Achilles tendon, leaving the 80,000 home crowd in the Bird's Nest in shocked silence.
Since then, Liu's career has been hampered by a recurrence of the Achilles tendon injury, despite making a temporary comeback from 2009 to 2011 to win a series of international meets with world-level marks.