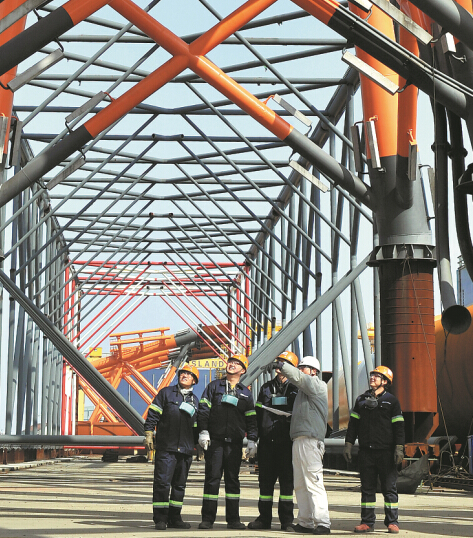 The Blue Island Offshore Group, which is based in Nantong, has captured about half of the domestic market for marine wind power facilities. PROVIDED TO CHINA DAILY
The government of Nantong, Jiangsu province, is encouraging local marine engineering companies to upgrade their businesses through technological innovation amid the nation's mass innovation campaign.
Even though the shipbuilding industry is sluggish worldwide, Jiangsu Huazi Oceanic Engineering Co has established a research and development center in Shanghai, where more than 50 people are working to develop key technologies for shipbuilding.
The center has cooperated with key universities including Shanghai Jiao Tong University to carry out research programs, and has also worked with some European companies on the designs of the company's ships.
Huang Hao, vice-chief of Yinyang township who is also vice-director of the Qidong Oceanic Shipping Industrial Park, said that only by innovation would shipbuilders expand their business when the global market is depressed and international competition is fierce.
Many other companies, including COSCO (Nantong) Shipyard, have invested tens of millions of yuan in technological R&D to improve the quality of their products.
A technological program focusing on the drilling of marine gasoline, developed by COSCO (Nantong) Shipyard, won the top prize for national scientific progress awarded by the State Council, China's cabinet, in 2011. With its professional services and modern management, COSCO (Nantong) Shipyard has become a preferred partner for top shipping companies and offshore oil service providers.
Zhang Guoxiang, a senior manager of Nantong-based Blue Island Offshore Group, said that thanks to the group's investment in technological development, its products have captured about half of the country's market for marine wind power equipment.
With more than 6,000 technical staff, the company develops high-end offshore equipment such as semi-submersible platforms, jack-up platforms and other special vessels. It is also responsible for equipment construction and procurement.
On May 24, the company shipped products — marine wind power equipment valued at more than 11 million yuan ($1.67 million) — to a customer company in Zhuhai, South China's Guangdong province.
Such investment on research and innovation has been encouraged and supported by the government at all levels. Late last month, President Xi Jinping and Premier Li Keqiang addressed an event combining three top-level science conferences attended by 4,000 scientists and science officials.
The central government's commitment is aimed at making China a leading power in science and technology by the middle of the century, or around the 100th anniversary of the People's Republic of China, Xi said at the conference.
The role of science and technology is the bedrock that "the country relies on for its power, enterprises rely on for victories, and people rely on for a better life", Xi said.
"Great scientific and technological capacity is a must for China to be strong and for people's lives to improve," he said, calling for new ideas, designs and strategies in science and technology.
Li told the event that China's overall research and development input would keep rising to account for 2.5 percent of its GDP in 2020, from the current 2.1 percent.
Li said innovation is crucial to supply-side structural reform and would boost China's competitiveness. He called for innovation "in every field and stage of economic and social development".
"Innovation is the primary impetus for development, and our 81 million science and technology workers are the backbone of innovation-driven development," Li said in a written instruction on the China Association for Science and Technology innovation campaign released on May 31.
Zhu Baoliang, a specialist in economic forecasting with the National Information Center, said that in the past 30 years, about 30 percent of China's economic growth has been driven by innovations. In contrast, developed countries derive 70 percent of their growth from innovations, he said.
Contact the writers through anbaijie@chinadaily.com.cn