Subways risky way to stimulate growth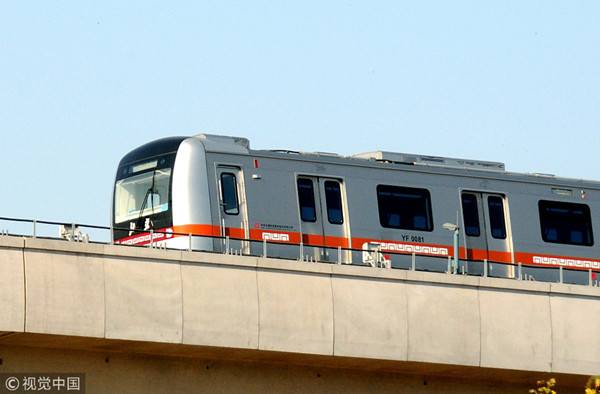 A driverless subway train of the Yanfang Line undergoes a test run in Beijing on Nov 15, 2017. [Photo/VCG]
THE NATIONAL DEVELOPMENT and Reform Commission, the country's top economic planner, has strengthened its supervision of rail transportation projects. Beijing Youth Daily commented on Monday:
A number of underground rail projects in North China's Inner Mongolia autonomous region have been canceled. Baotou may find it particularly hard to say goodbye to its underground rail project, since it was half way through construction. Many Baotou residents may also find it hard to let go of the idea. They have been waiting for the subway for two years.
Chinese cities have to meet many criteria to gain approval for a subway. These include annual GDP of over 100 billion yuan ($15 billion) and a downtown population of 3 million.
Baotou's GDP was over 300 billion yuan last year. However, it is home to just 2.8 million people. Many cities in Inner Mongolia that had proposed plans to build a subway are less wealthy and have smaller populations. Do underground trains really matter to them?
Urban rail transportation can significantly alleviate traffic congestion. This is good for the image of a local government. Subway projects worth over tens of billions of yuan are also a boon to manufacturers. They can also create employment. These are exactly what many local governments need to make their economic figures look better.
The fact that around the world very few subway systems are profitable is apparently not taken into consideration. The huge maintenance costs aside, operating underground rail systems in cities that do not have enough commuters would lead to a colossal waste of public resources.
There are also financial risks. Heavily indebted governments pose a grave danger to social governance. Cities must find less risky ways to stimulate the local economy now that China's economy has entered its new normal.