Toward a future of shared prosperity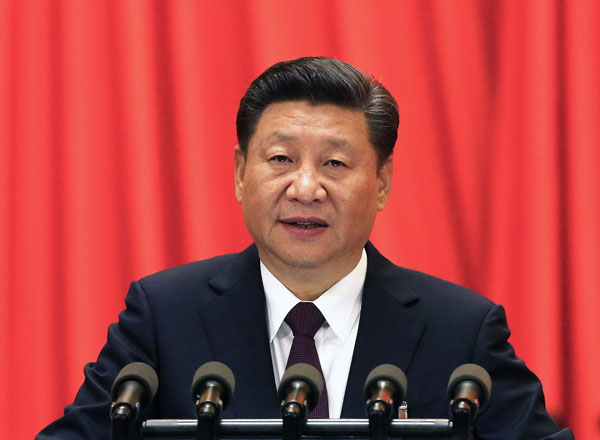 Xi Jinping delivers a report to the 19th CPC National Congress at the Great Hall of the People in Beijing, Oct 18, 2017. [Photo by Xu Jingxing/chinadaily.com.cn]
The just concluded 19th National Congress of the Communist Party of China will be remembered as an epoch-making event. The inclusion of "Xi Jinping Thought on Socialism with Chinese Characteristics for a New Era" into the Party Constitution has put General Secretary Xi Jinping into the privileged league of Mao Zedong and Deng Xiaoping.
Two of Xi's initiatives, strict Party governance and the Belt and Road Initiative, too, have found their way into the Party Constitution.
Xi has identified that threats to sustained economic development stem from the gap between the rich and the poor, and environmental hazards. Hence, his development policy has shifted to making economic growth balanced and participatory. By demanding the reform of the global economic governance system, Xi has made a strong case to develop a model for fair and equitable governance that reflects the realities of modern times.
His Belt and Road Initiative captures the spirit of our times and is a gigantic step aimed at promoting openness, inclusivity, peace and mutual learning. Enjoying the support of about 100 countries and multilateral organizations, including the United Nations, the Belt and Road Initiative is an epic and futuristic proposition that seeks to build a community of shared future. It is a pathway to promoting win-win partnerships for about 3 billion people across Asia, Africa, the Middle East, Central Asia and Europe.
As global political and economic architectures undergo transformation with implications for world peace, harmony and the overall well-being of humanity, the peaceful rise of China has brought about much-needed relief for those who feel the emergence of far-right politics in Europe is a potential threat to globalization. The imminence and lethality of this threat can be gauged from the increasingly receding position the UN has been subjected to over the last couple of decades.
As "political nationalism" becomes a new normal in the United States and parts of Europe, calling into question the very foundations of our shared fabric of globalization, Xi has emerged as a potent voice espousing the aspirations of the developing world. He has advocated a strong case for multilateral and shared approach to solving global problems with the UN at the core of dispute resolution.
In his address at the World Economic Forum in Davos in January, Xi put up a resolute defense of globalization. His appeal for South-South and North-South dialogue and cooperation has resonated well with the international community.
What has impressed me deeply is his enunciation of the Chinese Dream, which seeks to help improve the living conditions of not only the Chinese people but also the people of other countries. His Belt and Road vision, and by extension China-Pakistan Economic Corridor, is an extension of the Chinese Dream that is premised on fostering shared prosperity and creating a community of shared future.
We, in Pakistan, look at China as an "iron brother" and an "allweather friend" whose phenomenal progress continues to inspire and motivate us. China continues to be a model for Pakistan in many respects. Beijing's impressive rise has great lessons for Islamabad. The following are instructive in this regard:
First, China has performed a miracle by lifting 800 million people out of poverty since reform and opening-up-60 million people were lifted out of poverty during the past five years.
Second, China is the only country with an average GDP growth of more than 9 percent over the past three decades, which explains why it could reduce poverty significantly.
Third, the Chinese model of foreign policy is highly inspirational and worthy of emulation in our context as well. The strategic change of direction, the policy of internal consolidation and economic reform have led the march toward this mind-blowing success.
Fourth, in a world facing multiple challenges and torn by strife, the peaceful rise of China is a source of stability and rationality. Pakistan welcomes the peaceful rise of China and considers it as a source of stability.
With Xi at the helm, China has a central role to play in shaping the 21st century, which is being increasingly termed as the Asian century. As brothers and partners, we remain keen to learn from the experiences of our great Chinese friends in our quest to achieve progress and prosperity.
The writer is the chief minister of Punjab province of Pakistan.