China's local governments reaching out to EU states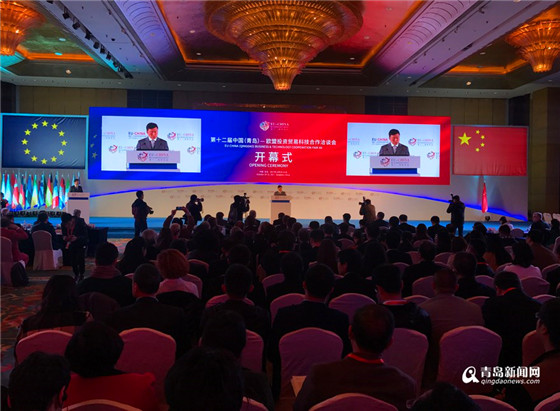 The 12th EU-China Business and Technology Cooperation Fair opens in grand style on Oct 30 in the eastern coastal city of Qingdao, Shandong province. [Photo by Zhu Ying/ qingdaonews.com]
The China-Belgium Technology Center, a future hi-tech business center launched in Louvain-la-Neuve in June last year, is the result of a partnership between the Hubei provincial government and the Walloon government in Belgium. And the China Culture Centre in Brussels, in which the Shanghai municipal government is a major player, is strengthening cultural ties between China and the European Union through its activities and programs.
During his visit to the Czech Republic, Yuan Jiajun, governor of Zhejiang province, pushed for a cooperation project with the local government to build a logistics and business park near a major railway station not far away from Prague, while Sichuan province has already inked an agreement to build an industrial zone in the Czech Republic, which is actively participating in the China-proposed Belt and Road Initiative.
These are just some of the projects that are part of the new trend of China's provincial and regional governments taking proactive measures to intensify the country's engagement and cooperation in global projects in recent years.
With the Belt and Road Initiative, proposed by President Xi Jinping in 2013, China's provinces have accelerated their efforts to connect with other parts of the world. They have cooperated with regional governments in Europe, offering timely help to strengthen private-public partnership in order to build industrial parks, business hubs or cultural centers.
One typical example is the growing number of freight trains linking China's different cities and European destinations. Now, 12 European countries, including the United Kingdom and Portugal, are linked with 34 cities in different Chinese provinces by freight trains.
The Ministry of Foreign Affairs knows full well the importance of provincial governments' engagement in the country's economic and cultural cooperation with the rest of the world. Since last year, it has organized regular fairs and platforms to promote China's provinces and autonomous regions, especially those from the western part of the country, to the foreign embassies and international organizations in Beijing.
The ministry has even said the schedule for next year's promotion activities is already complete.
Now that the central government has decided to deepen international cooperation, it is essential for provincial governments to follow up the policy and offer services, channels and even new initiatives for businesses and investors.
The signals from the 19th National Congress of the Communist Party of China indicate China will continue its opening-up policy and intensify its cooperation with the rest of the world.
It is expected that in the coming two or three years, the aspirations and passions of provincial governments to deepen cooperation with foreign countries will get a more concrete shape, providing businesses with better and growing opportunities.
European countries should take this opportunity to realize the full potential of cooperation with China. To achieve better results, China and the EU should coordinate and channel their cooperation. And a more detailed guideline for cooperation would make the exercise easier.
Since many EU states have relatively small populations, they need not to explore cooperation opportunities in every province. Instead, they could pair up with one Chinese province. For example, Zhejiang, one of China's economic powerhouses could pair up with Germany, and Sichuan with Greece. In this way, cooperation can be more focused and the results realized faster.
Most of China's provinces, municipalities and autonomous regions have long industry chains and manufacturing capacities. They also have a strong intention to invest abroad, and their residents are keen to travel overseas.
Besides, an estimated 600 pairs of European and Chinese cities have already entered into sister partnerships. And to deepen such relations and make them more economically effective is a challenge that China and the EU have to meet together.
The author is deputy chief of China Daily European Bureau.
fujing@chinadaily.com.cn