'No gutter oil' campaign gets thumbs up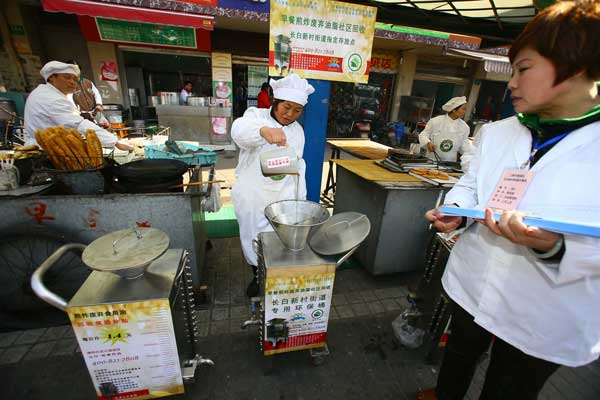 A community worker (center) in Shanghai recycles used cooking oil on March 6. Public concern over illegal oil pushed Chinese scientists to find ways to fight against "gutter oil". Wu Kai / for China Daily
KOUBEI, A LOCAL SERVICES PLATFORM affiliated to Alibaba Group, is giving "No Gutter Oil" labels to restaurants that promise not to use substandard cooking oil and recommending them before their unlabeled rivals. Southern Metropolis Daily commented on Thursday:
Koubei's "no gutter oil" campaign, which was launched on Wednesday, offers a glimpse of the longevity of substandard cooking oil, known as "gutter oil". It also points to the fact that such cooking oil is still being produced, distributed, and consumed despite the tightened supervision and toughened penalties for wrongdoers.
It is thus understandable that a hot pot restaurant in Guangzhou, Guangdong province, which promises "absolutely no use of recycled cooking oil", should prove popular with local residents.
The need to improve food safety in China remains striking.
In addition to holding those involved in the shady business accountable, it is worth trying to make better use of recycled and substandard oil, as suggested in a recent guideline on managing gutter oil issued by the State Council, China's Cabinet.
It is reported that in 2007 an oil-recycling project in the United Kingdom managed to transform used cooking oil into biofuel. Given the needed technological and policy support, the once-useless oil could be put to better use rather than threaten public health.
The fundamental cure for food safety and environmental protection rests with both stricter supervision and technological innovation. On the one hand, governments at all levels should offer support to enterprises collecting substandard oil and refining it for non-cooking use.
On the other, they are obligated to hunt down the producers and distributors of gutter oil and impose hefty punishments on them.
The aforementioned campaign is a refreshing inspiration, too. By helping customers find restaurants that provide healthy, non-compromised food, it puts pressure on restaurants to stop using substandard oil, because customers will eventually vote with their feet, and they are no longer shy of exercising the right to report the use of unqualified cooking oil via third-party online platforms like Koubei.