Popularity of school workbooks stems from focus on exams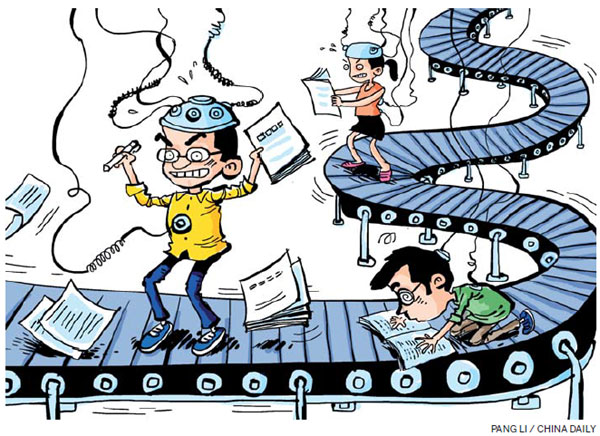 THE MINISTRY of Education has banned primary and middle schools from providing students with any drill-and-review workbooks. An article published in Shenzhen-based Jingbao Daily comments:
It is not the first time the Education Ministry has banned curriculum workbooks featuring fill-in-the-blanks and define-the-term exercises in public schools in recent years. But the bans have not stopped the publishing of such workbooks from becoming a lucrative industry with an annual value of more than 50 billion yuan ($7.24 billion).
The root cause is the exam-oriented education system has remained largely unchanged, so the students and teachers favor these materials, as they are good for rote learning which helps the students prepare for their exams.
So as not to violate the authorities' ban, schools do not openly organize or encourage students to buy such workbooks. However, on a private basis, teachers can still require their students to buy the workbooks. Some teachers may fatten their own wallets by demanding kickbacks from the publishers if their students use the books.
The gap between the Ministry of Education's ban and the situation in the classroom has its origins in the slow progress made in introducing a curriculum that stimulates students' interest in learning and applying what they learn to practical situations.
However, this can still not replace the role of exams in selecting the most competent students among a large number of candidates for a limited number of seats in the key high schools or universities.
So until the authorities reform the education system so there is less emphasis on rote learning and cramming and more emphasis on exploring students' talents and creativity, the workbooks will not disappear because of the ministry's ban.