Specific laws on drones can ensure air safety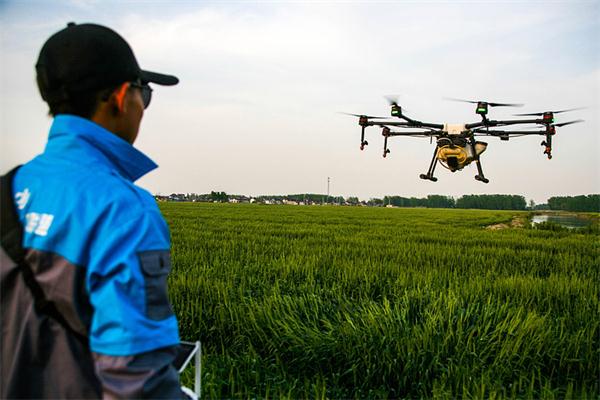 A man operates a drone to carry out spraying operations over a wheat field in Xinghua, East China's Jiangsu province, April 30, 2017. [Photo/VCG]
Editor's note: Drones, or unmanned aerial vehicles, have become affordable toys even for ordinary people and thus become a new headache for flight safety. Recently such drones forced the cancellation of many flights in Chengdu and Chongqing of Southwest China. Two experts explain to China Daily's Zhang Zhouxiang how to regulate the use of drones so as to prevent them from disrupting flights.
UAV law violators must be held accountable
Zhang Qihuai, lawyer and vice-director of the aviation branch of Beijing Law Society
Existing laws and regulations have specific clauses on UAVs, but those clauses are more like principles and thus hardly executable. For example, the regulation on the use of UAVs, which came into effect last September, says: "When needed, the user of a UAV should co-work with the air traffic control department to evaluate the safety of its flight".
But how will a UAV user decide when he/she is "needed" to co-work with the ATC, and how can air traffic controllers enforce such a clause?
Partly because of the lack of details and clarity, the laws and regulations on UAV management cannot be well implemented. Worse, even if someone is caught illegally flying a UAV, he/she can only be fined a few thousand yuan and detained for a maximum of 15 days. It's another matter that seldom is any UAV user fined, let alone being detained, for violating air safety norms.
Besides, there is no credit record system for UAV users, and those compromising the safety of flights are not blacklisted, or banned from using UAVs again. Given these facts, illegal use of UAVs can be hardly prevented.
In order to end the chaos and restore order, the authorities have to draft a specific law that makes clear the rights and duties of all UAV users. The manufacturers, retailers and users all should be regulated, and clear standards set for the use of different kinds of UAVs.
The law should also include a credit record system for UAV users and those breaking the law should be forbidden from flying a UAV for a certain period. Only specific laws and regulations on UAV and their strict implementation can effectively prevent drones from posing a threat to flights.
Simplify process to seek permission to fly drones
Diao Weimin, a visiting professor in International Aviation Law Institute, DePaul University
The rampant use of UAVs poses a threat to flights not only in China, but also in other countries. The number of UAVs increased at such a fast pace in the United States that its Federal Aviation Administration introduced a specific regulation in December 2015 which requires small UAV users to register with the relevant department using their real names so that they can be held accountable for violating air safety norms.
This is not to say that China should copy the US' example. But the US measure does offer some food for thought. China's existing domestic laws, too, require UAV users to apply for permission to fly the drones. However, since the procedure of obtaining the permission is so complicated and public knowledge about these laws is so poor that many people do not know they need official sanction to fly drones. Besides, many people would rather use UAVs on the sly than apply to seek official permission to do so.
In several cases that UAVs have posed a threat to air safety, police have penalized the users according to the Public Security Regulation, not the specific laws on the use of UAVs. This means the current laws regulating the use of UAVs need to be improved to make them executable.
Therefore, the procedure to seek permission to use UAVs should be made simple so as to encourage more people to register using their real names before flying drones, which will enable the authorities to trace and hold accountable those who violate the existing laws and regulations. More important, we need a comprehensive law to specifically regulate the use of UAVs in order to meet the actual demands.