Ban on smoking in public places must be enforced to the letter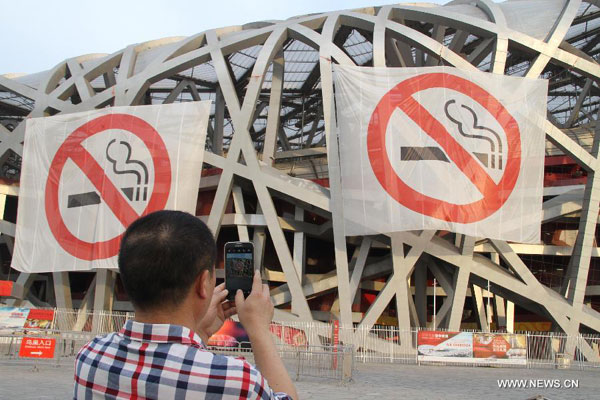 Non-smoking banners are displayed on the iconic Bird's Nest National Stadium in Beijing, capital of China on June 1, 2015. [Photo/Xinhua]
SHENZHEN IN SOUTH CHINA'S GUANGDONG PROVINCE implemented a smoking ban on Jan 1 this year, forbidding smoking in public rooms and on public transport. Since May 7, local law enforcers have launched several special campaigns to dissuade people from smoking in public. Sznews.com comments:
Some might argue that smoking is a personal choice and one has the right to decide whether to damage one's health by smoking or not. That might be true if they smoke behind closed doors, the problem is, a large number of smokers smoke in public and victimize others. Secondhand smoking is a big problem in modern society and it infringes on the rights of those who do not want to get themselves in harm's way even passively.
That's why a smoking ban is the common choice of developed countries and regions. In Singapore, smoking is forbidden in all indoor public spaces and the majority of outdoor ones. In Hong Kong, there is even a special team that inspects public places and punishes illegal smokers.
Shenzhen introduced its first municipal smoking ban as early as 1998, which was the first in the country. However, the ban was not enforced.
In 2014, Shenzhen revised its ban, but the penalties for smoking in public remained quite light. People were to be dissuaded from breaking the ban, and fined up to 200 yuan ($29) if they ignored the dissuasion. In comparison, the fine in Hong Kong can be up to HK$5,000 ($624).
That's why the recent move of Shenzhen should be welcomed. It shows the municipal government's determination to root out the problem. More important, the ban is truly being enforced because 52 people have been fined for smoking in public.
The revised ban raises the requirements for both ordinary citizens and legal enforcers. Civilized behavior needs the cooperation of all, and we hope the day will come when smoking totally disappears from society.