Short pain for long-term gain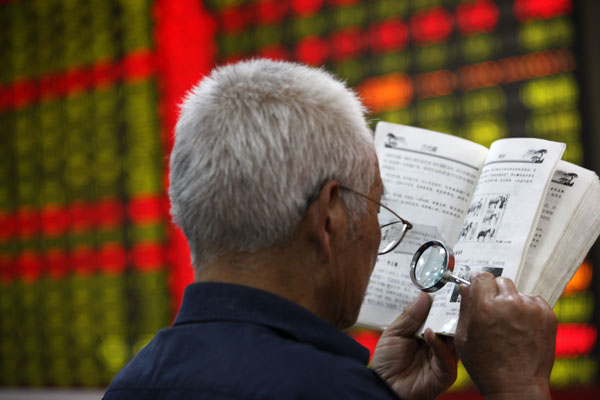 An investor at a securities firm in Huaibei city, East China's Anhui province on Sept 22, 2014. [Photo/Aisanewsphoto]
The Shanghai Composite Index fell 43.62 points, or 1.37 percent, to close at 3,129.53 on Monday, the sharpest drop in more than four months, amid damped market sentiments following a series of tightened measures by regulators.
Some investors have blamed the latest stock market adjustment on the recent sterner regulatory policies adopted by the securities, banking and insurance regulators. The China Securities Regulatory Commission, the top securities regulator, has frequently sought to tackle market malpractices. It even slapped a 3.47 billion yuan ($504 million) fine on a company chairman for stock market manipulation in March, an all-time high for a fine.
The shares of more than 10 companies were suspended after they experienced abnormal price fluctuations following the authorities announcement of the establishment of Xiongan New Area in Hebei province.
The China Insurance Regulatory Commission also vowed on Sunday to further strengthen supervision to make sure insurance companies comply with tighter risk controls, avoid aggressive investment strategies and take measures to avoid risks.
Such regulatory measures have displayed the determination of the regulators to rectify the chaotic situation in the domestic stock market. From a long-term perspective, these measures are conducive to the healthy development of the domestic stock market. Without the malpractices being curbed, investors would face ever-growing risks.
The losses suffered by investors as a result of the tightened regulations are worthwhile if they are paid in exchange for long-term market order. The stock market to some extent serves as a barometer of a country's economic performance. As China's economy is expected to stabilize and steadily recover, the current decline in the stock market does not necessarily signal the end of the generally upbeat trend it has experienced in the previous few months.
-BEIJING YOUTH DAILY