Powering up with the web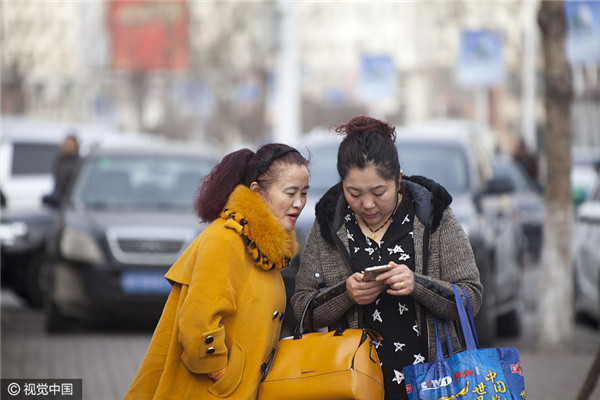 Two women look at a mobile photo in Jilin city, Northeast China's Jilin province, as the whole city rolls out access to optical fiber network on March 31, 2016. [Photo/VCG]
A year ago, President Xi Jinping, speaking at a conference on cyber security, urged new concepts to be adopted and an innovation-driven development strategy to be unswervingly implemented to build China into an internet power.
As an important element of his thoughts on governance, Xi's remarks have guided the development of the internet in China over the past year and given impetus to the country's efforts to transform itself into a power of information technology.
China has continuously made new breakthroughs in the internet sector. And its booming e-commerce and sharing economy have injected new energy into China's efforts to adapt to and lead its economic new normal. The nascent but booming application of the Internet Plus strategy aimed at turning the country into a digital powerhouse is already reaping rewards in the educational, medical and cultural sectors and has brought people the dividends of digital development. Continuous amendments to the country's cyber security legislation are also being made in a bid to create a healthy cyber ecology.
Internet and information technologies are profoundly changing the global economic, interest and security patterns. For China to resolve internet-related problems, such as how it can free itself from its excessive dependence on other countries with regard to core internet technologies, how it can ensure cybersecurity while pursuing bigger internet development at a time of growing cyber security threats and risks, and how it can nurture a positive and healthy cyberculture, it needs to follow the tide of internet development, rally talents from all walks of life, promote policy coordination among involved departments, and spare no efforts to push for reforms and innovation under the guidance of the path outlined by Xi.
Only after that, can China form a strong force for technological innovation and industrial upgrading and bring more tangible benefits to itself and the rest of the world.
- PEOPLE'S DAILY