Middle-income trap is not unbreakable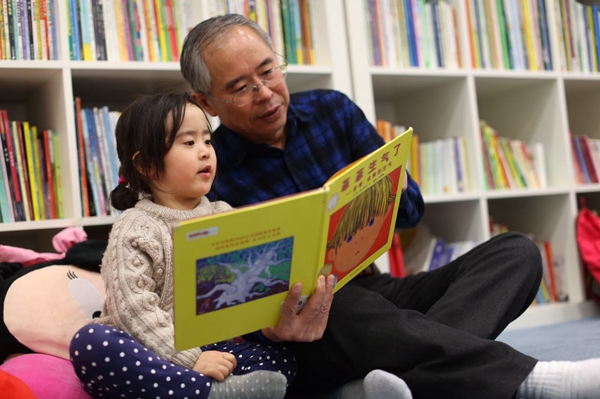 A grandfather reads stories to his granddaughter at a library in Beijing. The middle class read more than the national average by a large margin. [Photo by Wang Jing/Asianewsphoto]
The term middle-income trap, first used by the World Bank in 2006, refers to a stage-generally, slower growth-an economy reaches after becoming a middle-income society. The middle-income trap, as such, reflects the inadaptability of the industrial development model.
Globalization has allowed a country's industrialization to be weighed in terms of internal industrialization and external industrialization. And once the negative factors impede the development of internal industrialization, external industrialization, more or less, prevails.
Developed countries have almost always exported capital through direct investment, capital outflows or cross-border cooperation to check the decline in profits because of increasing domestic wages. Such kind of external industrialization has helped accelerate many developing countries' domestic industrialization.
Still, many emerging economies remain at the low-end of the global industrial value chain because a huge amount of surplus value is transferred through the circulation of commodities, capital and finance to the developed economies. This prevents developing countries' comparative income level from increasing even if their industrialization process and productivity continue to rise.
Besides, developing countries are forced to participate in a competition of low-level industry based on comparative advantage in labor cost, which gradually reduces profits.
According to the World Bank's statistics, only 13 out of the 101 middle-income economies since 1960 have managed to reach the high-income stage. International practices show the key to avoiding the middle-income trap is to rapidly increase the competitiveness and accumulation of an economy's industrial capital, in order to clear the bottlenecks preventing incomes from rising and to accelerate the transition from a middle-income to a high-income economy.
Without the accumulation of sufficient domestic industrial capital, it is difficult for an economy to break free from the capital accumulation system dominated by international capital; it could even marginalize the economy in international competition.
Although there are many enterprises and industries with huge capacities, even overcapacity, in China, their industrial capital accumulation, in general, has not been high and their international competitiveness not strong enough. And in recent years, excessive financialization has undermined the accumulation of domestic industrial capital.
To increase the quality and competitiveness of China's industrial capital accumulation, we should first increase the quality factors of capital. The accumulation of industrial capital especially productive capital mainly depends on the accumulation of material, human resources and technological factors. And quality factors such as highly skilled laborers and advanced technology can increase products' added value and improve their position in the international division of labor.
To enhance such quality factors, we should increase investment in fields such as technology, which has become an increasingly important factor determining the competitiveness of enterprises and countries. Increasing investment in technology, especially in technological innovation, will promote industrialization and help accumulate productive capital.
Moreover, there is need to establish a combination mechanism for capital in the financial and industrial sectors, in order to provide strong financial and social capital support for the accumulation of productive capital.
With the rapid development of globalization, capital's supportive role in the real economy has reduced. To support the integrative development of capital in the financial and other sectors, measures have to be taken to help financial and social capital to play a greater role in the accumulation of industrial capital and industrial upgrading.
Measures need to be taken for promoting the internationalization of capital and selectively exporting and importing it. Selective export and import of capital based on the requirements of domestic development could promote the accumulation of quality industrial capital and improve the position of domestic industries in the international industrial value chain, which will ultimately lead to stable and balanced international circulation.
The author is an economics professor of Renmin University of China.