Reducing poverty, raising growth in Africa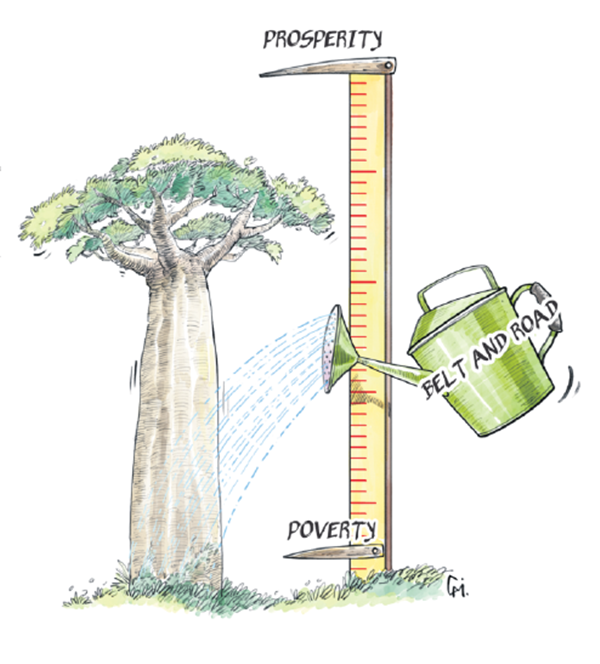 CAI MENG/CHINA DAILY
About three decades ago China's fight against poverty was as daunting as that faced by Malawi. Thirty years on China has not only lifted about 700 million people out of poverty but also has become the world's second-largest economy while a large number of Malawians still live in poverty and the overall economic growth of most African countries still lags behind that of other regions.
China can translate its success in poverty alleviation into useful lessons for African countries. In fact, it has been doing so over the past years by sharing technical expertise and experience, such as how the country has managed to shift its focus from charity and regional development to more targeted poverty alleviation programs. The missing piece of the puzzle may be how to get rid of "ideological poverty", or parochial, outdated thinking, as President Xi Jinping has said in one of his books.
Beijing has vowed to help build a community of shared destiny and interest, in which China and African countries can enjoy the dividends of inclusive growth. Deepening bilateral cooperation that could bring tangible benefits to more than 2.3 billion people, as Premier Li Keqiang said at the 2014 World Economic Forum on Africa, will facilitate the most intensive inclusive growth and balance the global economic order.
Like many African countries, China was also a victim of Western imperialism and motivated to eradicate poverty and achieve overall prosperity. The more than 50 years of friendships between China and African countries speak volumes of their common development goals, which also serve as a diplomatic linchpin of their relationships.
China-Africa interdependence means that China, a trailblazer in reform and opening-up, should help lift more underprivileged peoples out of poverty in African countries while continuing to intensify its poverty alleviation efforts at home. Beijing's assistance to Africa is in essence about building a reciprocal, complementary partnership, as well as shouldering the responsibilities that come with being a major power.
Apart from offering financial aid and development experience to African states, China has doubled its efforts to help them enjoy the fruits of globalization. During the G20 Hangzhou Summit last year, China, as the host country, put great emphasis on supporting the industrialization of African countries, especially the less-developed ones, and for the first time included African industrialization in the G20 communiqué.
China's endorsement of shared development should greatly help African countries amid rising protectionism and anti-globalization sentiments in the West. The Belt and Road Initiative (the Silk Road Economic Belt and the 21st Century Maritime Silk Road), designed to improve global inter-connectivity, best mirrors China's sincerity in sharing the "fruits" of its development with the international community.
Moreover, African countries' economic growth can get a big boost also from the three-year package of cooperative deals proposed by Xi at the 2015 Johannesburg Summit of the Forum on China-Africa Cooperation, which is worth about $60 billion and covers industrialization, agriculture modernization, infrastructure, green growth, public health and security.
The author is a senior researcher with the Charhar Institute and a researcher with the Institute of West-Asian and African Studies, Chinese Academy of Social Sciences.