Central environmental inspections matter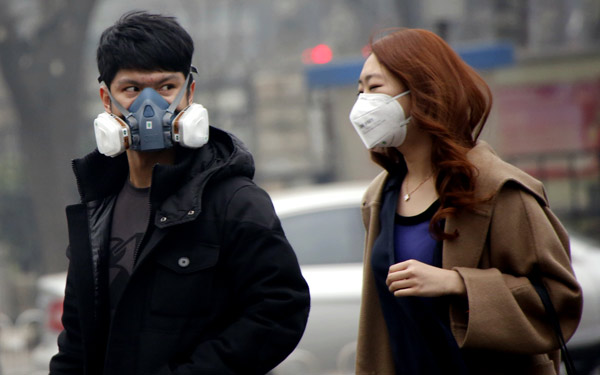 A couple tackle the pollution in a shopping district amid heavy smog after the capital issued its first ever "red alert" for air pollution on Dec 8, 2015. [Photo/Agencies]
The central environmental inspection teams that were dispatched recently have uncovered a range of problems nationwide, such as the fabrication of air quality monitoring data in Shaanxi province, the weak air pollution control in Beijing and disguised transformation of fines for polluters into fees to pollute, and lax control of pollution from ships in Chongqing municipality and some pollutants being directly discharged into the Yangtze River.
The authorities have maintained unprecedented openness and transparency with regard to the inspection results and the governments involved have taken practical measures to rectify the identified problems and hold those responsible accountable.
Since the second round of central environmental inspections was launched at the end of November, central inspection teams had been dispatched to seven provincial-level regions, and more than 2,599 persons had been punished by April 13.
By launching the environmental inspection campaign, the aim of the central environmental authorities is to transmit environmental protection pressure from one level of local government to another, as the top authorities' environmental protection policies and efforts have been discounted and even violated by some local governments, whether by lowering the environmental protection standards, refusing to implement relevant industrial regulations as required, or putting off implementation deadlines.
It is the diminishing pressure from higher to lower levels that has caused some long-standing pollution issues. Behind environmental issues across the country are actually the existence of entrenched vested interests and the conflict of interests among departments in some regions. This should be corrected through taking some "big actions".
The public has been pinning high hopes on the central environment inspection system for bringing changes to the country's deteriorating environment. However, the effectiveness of any environmental protection policies and measures, no matter how well-devised, lies in their credible implementation by local governments. Only after local governments put the environment above local interests, can the sources of pollution be effectively eliminated.
--THEPAPER.CN