Students get protection from loan sharks
The China Banking Regulatory Commission recently launched a series of measures to reduce internet financing risks. One of the measures is aimed at regulating online student loan platforms. It says such platforms or agencies should not grant loans to university students who don't have the capability to pay back, and bans promotions that trick students into borrowing money and ending up paying exorbitantly high interest rates.
The commission's warning comes amid a growing number of students being harassed, even blackmailed, by loan sharks.
In one such case, a female sophomore in a university in Xi'an, Shaanxi province, was forced to flee to her hometown in Hainan province to avoid her creditors, Huashang Daily reported recently. In less than a year, she borrowed about 250,000 yuan ($36,270) from 34 online loan platforms - often borrowing money from one to repay the loan taken from another. She confessed spending most of the money on cosmetics.
When the total repayable amount increased to 500,000 yuan, far more than she or her family could afford to repay, and she could no longer endure the constant harassment and occasional threats from the creditors, she fled to her hometown, though she still has to repay the money.
In some cases, loan sharks demand nude photographs from female university students as collateral for the loan. If such students fail to pay back the loans - mainly in installments - the loan sharks threaten to upload the photos online. And some creditors demand exorbitant interest rates, even sexual favors, by threatening to post the photos online.
In fact, a few online loan platform operators have posted female students' nude photos online, causing a public outcry.
In a recent case, a loan shark sent a nude photo of a university student in Wuhan, Hubei province, even to her father's mobile phone after she failed to repay the due amount, a Chutian Metropolis Daily report said, as the 5,000 yuan she had borrowed last October had increased to a whopping 260,000 yuan. The father has reported the case to the police.
University students are usually tech-savvy and willing to try out new things. The original goal of granting online loan platforms access to campus students was to offer financing to students intent on starting their own business, because it is difficult for them to get loans from large commercial banks.
But some online loan platforms used their low threshold for offering loans to squeeze the maximum possible amount out of students, many of whom would readily borrow money to buy a flashy lipstick or a fancy new smartphone.
A Huashang Daily survey shows most of the students who borrowed money did so to buy cosmetics or electronic products. For many university students, living independently is a first-time experience. Hence, some of them fall prey to tricksters and fraudsters.
However, the mesh created by online loan platforms also merits attention. Some use various tricks to attract students - for instance, offering very low interest rates but charging high commission and other miscellaneous fees. Others use very complicated algorithm to hide their high interest rates. And a few online loan platform agents even help students who don't have the capability to pay back to get loans and thus be entrapped forever. After such students borrow money from a loan platform, they are caught in a vicious circle: keep borrowing money to pay back old debts.
That the China Banking Regulatory Commission has launched the measures shows the issue has caught the attention of the authorities. Nevertheless, all parents should teach their children the importance of rational consumption and how to avoid falling prey to loan sharks. And the authorities should also make more efforts to regulate online student loan platforms to ensure the healthy development of this new form of financing.
The writer is an editor at China Daily. lifangchao@chinadaily.com.cn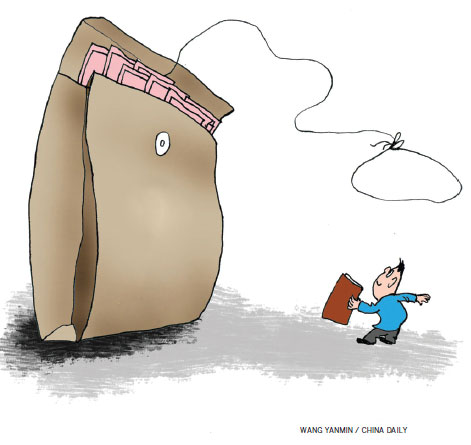 (China Daily 04/15/2017 page5)