Law on land compensation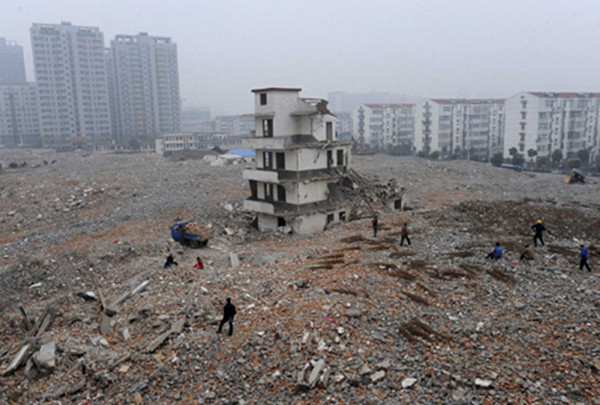 A partially-demolished "nail house", the last house in the area, is seen at a construction site in Hefei, Anhui province February 2, 2010. The owner of the house is attempting to seek more compensation before agreeing to the demolition of their home, local media reported.[Photo/Agencies]
The Ministry of Land and Resources has reportedly released its 2017 legislative work plan, which lists the drafting of a regulation on compensation for rural collective land expropriation as one of its top priorities.
Rural collective land is usually expropriated at a much lower price than urban land and farmers receive little compensation. In some cases, local governments intentionally force down such kind of compensation, which provokes anger and even triggers protests. Thus any accelerated legislative work on rural land acquisition should focus on raising the compensation given to farmers when their collective land is expropriated.
As urbanization has accelerated in recent years, local governments have requisitioned a lot of rural collective land for commercial projects to increase their fiscal revenues. Compared with the swollen fiscal coffers of the governments as a result, the farmers who lost their collective land received little or no monetary benefit.
According to a 2008 study, the governments gained land value-added income two and a half times that of collective entities and farmers in 1995, and the gap further widened to almost fourfold in 2005. According to the extant law, rural land, if expropriated, will be compensated based on measurement calculation of the land's output, while the same land after it has been requisitioned by the government will be sold in the name of commercial land at a much higher price.
The authorities have vowed in official documents to reform the land requisition system and raise farmers' share in the distribution of land value-added returns.
Legislation should now be drawn up that guarantees farmers higher compensation when their collective land is requisitioned. The compensation should be based on undifferentiated and marketized standards to reduce conflicts of interest in the process of urbanization and create a more harmonious society.
-BEIJING NEWS