US' change to currency tack will pay dividends for ties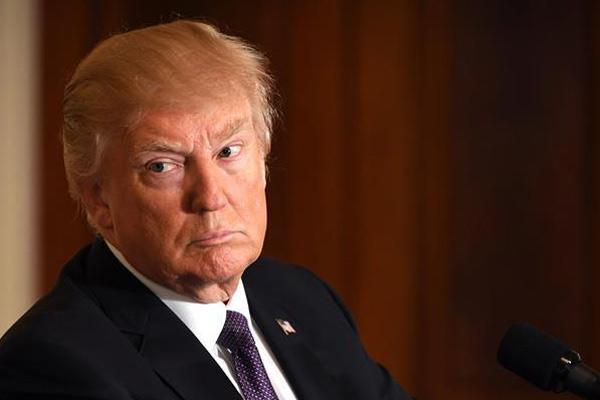 US President Donald Trump attends a press conference at the White House in Washington DC, on April 12, 2017. [Photo/Xinhua]
US President Donald Trump's decision not to label China a currency manipulator is a positive step in the two sides' efforts to enhance bilateral cooperation. It provides further proof that China and the United States are warming to each other after the meeting between President Xi Jinping and Trump at Mar-a-Lago, Florida, on April 6-7.
On Wednesday, Trump backed away from his campaign promise that he will name China a currency manipulator as one of his first acts in office. The US Treasury Department also confirmed that its semi-annual report on currency practices of major trading partners, due out later this month, will refrain from doing so as well.
The US stance immediately won approval from Beijing, which said it will contribute to the healthy development of two-way trade and investment.
China has repeatedly denied the accusation that it is a currency manipulator, and in an interview with The Wall Street Journal on Wednesday, Trump agreed this is not the case, saying, "they (China) are not currency manipulators".
Such an objective, and justified, approach to the currency issue will certainly help maintain the good momentum that has been maneuvered in ties.
It is natural for China and the US to have differences on issues. But as long as the two sides act in good faith to resolve those differences through communication and consultation, their disagreements can be managed.
As Xi said in his meeting with Trump, China is willing to work together with the US to enhance high-level exchanges and dialogues and expand cooperation.
As far as bilateral trade is concerned, it has brought huge benefits to the two peoples as the two countries have become each other's top trading partner. In the first quarter, bilateral trade in goods registered a growth of 21.3 percent.
China has made it clear it does not pursue a trade surplus and it hoped the US would loosen restrictions on its exports to China. The two countries have decided to give themselves 100 days to discuss issues in trade, which shows the two sides are making concrete efforts to work together.
Both intrinsic factors and the external environment have contributed to frictions in bilateral trade. Putting the blame solely on one side and threatening punitive measures have only deepened the divide.
Accommodating each other's concerns and following the principles of mutual respect and mutual trust is the only way to usher in a win-win outcome.