Remedy for healthcare ills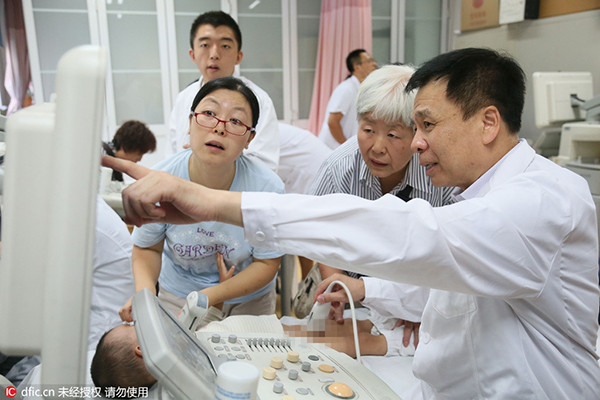 A Chinese doctor talks with family members of a young patient as he examines him with a Type-b Ultrasonic Diagnostic Instrument at a hospital in Beijing, September 11 2013. [Photo/IC]
Beijing launched its medical reform on Saturday, scrapping the previous markup on drugs, which could be as high as 15 percent in the old pricing system, and replacing the registration fee and treatment fee with a medical service charge.
The implementation of the capital's reform measures marks a substantial step toward long-anticipated reform of the country's long-controversial medical system.
Any reform always necessitates adjustments among the interests of different groups. And, according to media reports, some patients have applauded the considerable decline in medicine prices, believing the separation of medical services from medicine prices will bring tangible benefits to people, while others have complained about the higher medical service charge, claiming it a disguised price increase. The capital's hospitals have also shown mixed reactions to the cancellation of drug price markup.
Given that any substantial reform of the country's medical system affects a variety of groups, it is normal for the reforms to be received differently by different groups. But the established medical system was under fierce public criticism and a basic consensus was reached that the past practice of doctors' incomes being dependent on medicine sales to a certain extent should be abolished and they should be paid according to the quality of service they provide. Beijing's move to lower medicine prices and the cost of tests involving medical equipment will surely motivate doctors to improve the services they provide as they will no longer profit as much from prescribing tests and medicines.
The raised medical service charge will better reflect the value of the skills and experience of medical personnel and also promote much-needed hierarchical diagnosis and treatment, thus easing the insufficiency of medical facilities and personnel in big hospitals and improving the sometimes-strained doctor-patient relations.
Beijing's latest move offers a correct direction for the broader medical reform and it is hoped that more regions will follow suit.