Harness comparative strengths, unleash development potential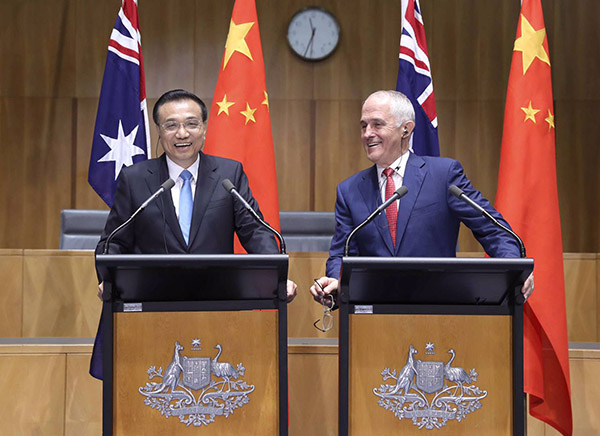 Chinese Premier Li Keqiang and Australian counterpart, Malcolm Turnbull, speak at joint press conference after their annual talks in Canberra in Australia on March 24, 2017. [Photo/provided to chinadaily.com.cn]
Visiting Premier Li Keqiang witnessed the signing of a cooperation agreement between China and New Zealand under the framework of the Belt and Road Initiative on Monday. This is the first agreement of its kind China has inked with a developed Western economy, indicating China's initiative is gaining both popularity and substantial progress.
The initiative, put forward by President Xi Jinping in 2013, aims to revive the ancient overland and maritime Silk Road trade routes with a focus on infrastructure and trade. The initiative is increasingly looked upon as a way of resurrecting the globalization trend and achieving common development, and a growing number of countries are participating in it.
New Zealand has set many precedents for China's relations with developed Western economies: It was the first to conclude bilateral negotiations on China's accession to the World Trade Organization, the first to recognize China's full market-economy status, the first to sign and implement a bilateral free trade agreement with China and the first to join the China-initiated Asian Infrastructure Investment Bank as a founding member.
All these have helped lay a solid foundation for bilateral ties to prosper over the years and bring real benefits to both sides. Bilateral trade has increased nearly threefold over the past eight years since the China-New Zealand FTA came into force.
Li's ongoing visit to New Zealand will elevate bilateral interaction to a new height by fostering new growth points, unleashing new potential for common development and synergizing the two countries' development strategies.
Prior to New Zealand, Li visited Australia, which has also responded positively to the Belt and Road Initiative. During Li's visit last week, China and Australia signed a series of agreements on bilateral cooperation, including an eye-catching agreement on infrastructure.
The economies of China and Australia are highly complementary, and the two countries implemented a bilateral FTA agreement in 2015 that has anchored their reciprocal cooperation in trade and other fields. The two countries have now begun negotiations to further expand their FTA to other fields, especially services and investment, as Li revealed in Sydney.
The strides made in China's FTA arrangements with Australia and New Zealand show that free trade does not necessarily lead to tit-for-tat competition but generates gains for all participants.
With the world facing the challenge of slow economic recovery and the backlash of anti-globalization, the efforts of China and the two Oceania countries to further develop their ties should help build global confidence in free trade and open markets.