Bike-sharing services cry for improvement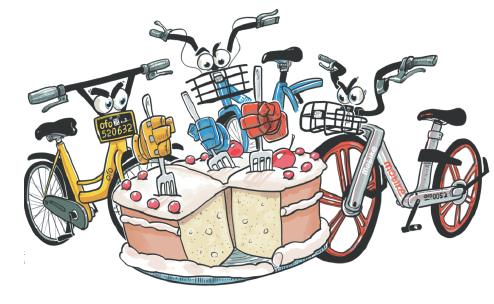 CAI MENG/CHINA DAILY
The craze for station-less bicycle-sharing services is rising at an increasing pace in China, with most service apps offering free deals to customers at the expense of deep-pocketed investors.
Mobike, one of the bike-sharing service providers, stopped charging riders from March 3, and has just extended the complimentary session to the weekend. Bluegogo, another bike-sharing company, still allows its users free rides for the first hour. The new player in town is quickly catching up by offering blue-painted bikes that resemble the GPS-enabled Mobike Lite models but weigh less, and come at no service cost. It reportedly has more than 5 million active users.
Teaming up with Sesame Credit, a credit rating agency that is part of the Ant Financial Services Group owned by e-commerce giant Alibaba, Ofo is allowing Shanghai users with a credit score of 650 or more to rent a bike without paying the 99 yuan ($14.4) mandatory deposit. It is widely seen as a move to trigger another round of "cash-burning" promotion in the sector, which only started to grow less than a year ago.
Their cut-throat competition to attract users and grab market shares is reminiscent of the tussle between car-hailing giants Uber China and Didi Chuxing, which saw the US company offering huge concessions when the subsidy battle came to a grinding halt.
That cities including Beijing and Shanghai are mulling drafting guidelines for the bike-sharing services should help cool down the competition. The Shanghai transport authority has reportedly asked six bike-sharing companies to stop adding new bicycles to their "fleet" in the city, while 10 streets of Xicheng district of Beijing are now off limits to sharing bikes.
Pouring subsidies into the market, which is a popular campaign tactic used by internet-based startups, can be effective in the short term but cannot last long. It can work exceedingly well in the early stages, because customers vote with their feet and are inclined to vouch for apps that offer the best bargain. Weeks of free rides and one-for-two top-up policies are no doubt a magnet for potential users.
But they depend heavily on the sustainability of financial support, as none of the service apps has released projections for their profitability in the face of rising maintenance costs. The withdrawal of investors could make a life-and-death difference to the bike-rental sector. And the exodus of customers would be even more disruptive once their end of the bargain is compromised.
In the car-hailing service sector, the merger between Didi and Uber was followed by skepticism over their de facto monopoly and tighter restrictions on ride-sharing drivers and vehicles, leading to a decline in the market share of the new ride-sharing juggernaut. The rise of rivals like the State-owned Beijing Shouqi Group also helped readjust the fares to reasonable levels and end the ruthless game of capital in the ride-hailing market.
As the bike-sharing service becomes increasingly homogenized, operators need to think beyond offering free rides and producing more bikes. Attracting decent, loyal users is definitely worth a try. Sesame Credit's data can offer a glimpse into users' financial capability, debt-paying ability and shopping preferences. And credit marking by the bike-hiring apps can help complete the whole picture.
Their combination bodes well for the efforts to build a nationwide credit system which citizens are subjected to. The idea of rewarding credible users and keeping unruly ones at bay may be a better way of keeping quality active customers than simply offering free rides. The money-pouring battle will end up hurting all bike-sharing service providers if they do not focus on improving services and insurance policies.
Zhu Wei is deputy director of the Communication Law Center at China University of Political Science and Law. The article is an excerpt from his interview with China Daily's Cui Shoufeng.