Economist predicts Chinese economy bottoming out, deficit ratio wouldn't be lowered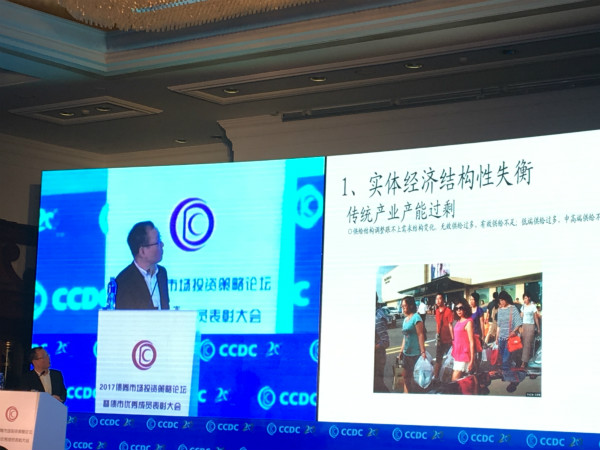 Wang Yiming, the deputy director of Development Research Center of the State Council (DRC), was delivering speech during the annual bond forum.
China's economy may bottom out in 2017, Wang Yiming, the deputy director of Development Research Center of the State Council (DRC), has told the annual bond forum.
Wang suggested the macro-policy must be consistent over the whole year, while fiscal policy could incorporate more positive and effective moves.
In the short term, he believed there still lacked solid grounds to lower the deficit ratio.
According to Wang's analysis several combined factors will facilitate the bottoming process.
Investment growth, such as in the manufacturing industry, which accounts for one third of aggregate investment, has shown signs of recovering from a low point. The growth rate of infrastructure spending, which accounts for one quarter of total investment, is predicted to be 16-17 percent for the coming year.
These observations support a projection that overall investment will stabilize in 2017.
Another positive sign is that substantial progress has been made around cutting over-capacity last year, which directly impacted corporates' earning performance. At the same time, the producer price index (PPI) edged up after sliding for 51 consecutive months, maintaining positive over four months till December 2016.
Wang argued that of particular importance is new technologies and new business models ability to improve capacity of traditional industries still considered to be key growth momentums, instead of over-emphasizing the potential of entirely new industries to replace them. One point that shouldn't be overlooked is the volume of new industries and their proportion of the gross economy is still limited, only accounting for less than 10 percent.
He suggested the emphasis should still be on traditional industries adopting innovative mechanisms and restructuring assets to make these industries alive again.
To cope with the coming bottoming out this year, Wang determined that fiscal policy should be even more active and efficient, which means the deficit ratio wouldn't be lowered, at least in the short term.
Monetary policies must remain prudent, with good signs that the proportion of bonds as direct finance amid social financing has increased, and the regulators also loosening loan-to-deposit ratio limits.
Wang advised caution to prevent financial risks, such as curbing the assets bubble, with priority on lowering corporates debt ratio. Corporate debts already amount for more than 100 trillion yuan and accounted for 170 percent of GDP.
The solutions he put forward focus on three aspects: supporting corporates to process debt and equity swap legally in a market-based manner, accelerate equity financing and tighten up restrictions on corporate debt.
The World Bank kept its forecast for China's economic growth rate for 2017 at 6.5 percent, saying that the economy will continue sustainable growth as it is transitions from manufacturing to services, despite reemerging concerns for property markets, according to Xinhua's report.
Wang also mentioned his advice to turnaround the property market, the core of which lay in increasing land supply effectively and starting property tax collection to help local authorities rely less on land revenue.
Wang delivered his message during the annual bond forum hosted by China Central Depository & Clearing Co., ltd (CCDC), a national non-bank financial institution responsible for registering, trusting, trading and clearing business around government and corporate bonds, which is solely state-owned and financed by nine institutes like People's Bank of China (PBOC), China's Central Bank, and Ministry of Finance.