UK looks to learn from Chinese education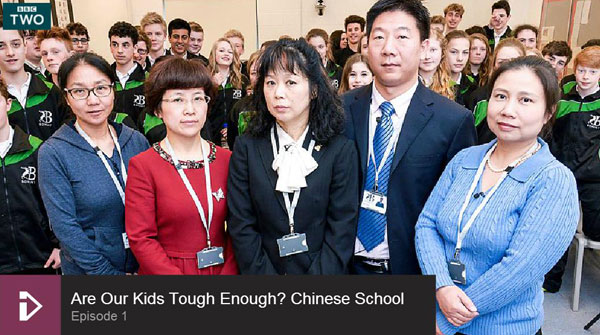 A still image captured from the website of BBC. [Photo/bbc.co.uk]
ON TUESDAY, THE FIRST DAY OF THE 2017 LONDON BOOK FAIR, the UK publisher Harper Collins Publishing signed a contract to translate and publish the math textbooks of Shanghai Century Publishing Group used in Shanghai primary schools. Beijing Youth Daily comments:
The news reminds us of the 2015 BBC program Are our kids tough enough? The documentary followed the fortunes of five Chinese teachers using Chinese teaching methods on a trial basis in a UK middle school.
It seems the United Kingdom and many parts of the Western world are interested in Chinese teaching methods.
But many wrongly view Chinese-style education as tireless repetition and spoon-feeding students concepts that they do not understand. This is not the case. Chinese-style education has its own methods that have proven successful, and the textbook project and teacher exchange programs will help Westerners get a more comprehensive image of it.
However, although some uphold Chinese education as being better than that in Western countries, it is also not without its problems. It lacks respect for children's creativity and is too exam oriented.
So the publishing deal is not a case of Chinese education defeating the West, as some have claimed. It's a sign of China and the UK deepening their cooperation in education, with both Chinese and UK educators gaining deeper insights into the advantages and disadvantages of their respective teaching methods.