Private and diverse inputs for the elderly should be promoted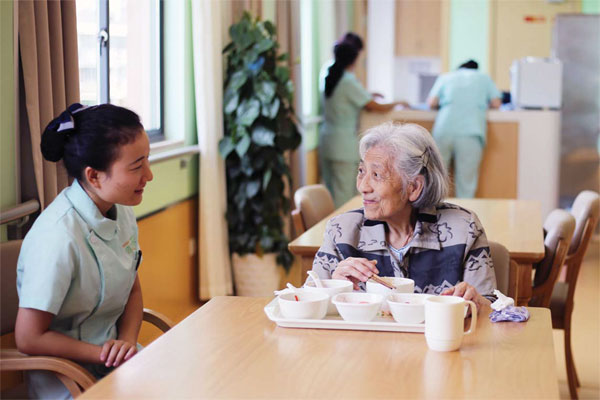 An elderly woman dines at a nursing home in Hangzhou.[Sun Yidou / For China Daily]
SPEAKING TO THE MEDIA ON WEDNESDAY on the sidelines of the fifth plenary session of the 12th National People's Congress, China's top legislature, Minister of Civil Affairs Huang Shuxian said that his ministry will further promote the domestic industry on the care for the elderly by constructing more old people's homes and developing community services for them. Southern Metropolis Daily comments:
Huang's remarks highlight the correct solution to the problem of caring for the elderly in our aging society. According to the white paper on China's care for the elderly published in 2016, the population aged 60 and above in China reached 222 million by the end of 2015, accounting for 16.1 percent of the total population. It is a huge challenge to provide enough care for all these senior citizens.
To make things worse, China has entered an aging society before it has accumulated the necessary funds to support good living conditions for everybody. Moreover, the rapid pace of urbanization means many senior citizens have been left behind in "empty nests" while their children live and work in cities far away.
In October 2013, the Ministry of Civil Affairs estimated that the number of "empty nest" seniors would exceed 100 million, and it did by the end of that year. There are not enough care homes for the elderly to meet the demand, and the existing ones are rather expensive.
The central leadership has been paying ample attention to this problem. The 13th Five-Year Plan (2016-20) said that the old-age care industry's development must be accelerated. On May 27, 2016, President Xi Jinping emphasized at a meeting of the Political Bureau of the Communist Party of China Central Committee that national policies to support the development of the elderly care industry were needed.
Various levels of governments have invested much energy and resources since. The State Information Center predicts that the total government investment in the elderly care industry will exceed 29 billion yuan ($4 billion) during the 13th Five-Year Plan period.
However, the government alone is far from enough in meeting the growing demand and the whole of society has to be mobilized. Elderly care services are appealing to private capital because they offer a return on investment, but the government needs to provide more policies to encourage more private capital to invest in facilities and services for the aged.
For example, local governments could provide land for old-age homes below the market price, so that more capital will rush in.
Only with the cooperation of all will the elderly care industry truly flourish.