What to make of Li Keqiang's speech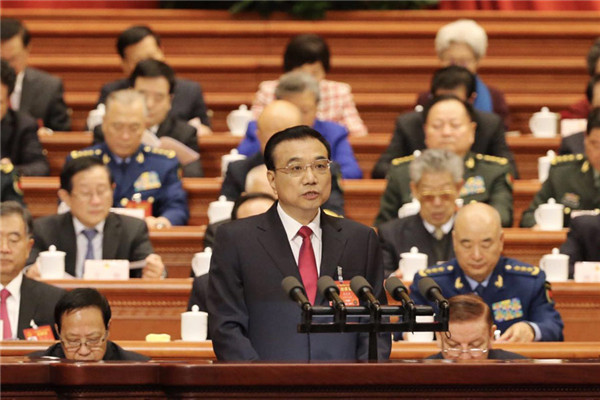 Premier Li Keqiang delivers the Government Work Report during the opening meeting of the fifth session of the 12th National People's Congress at the Great Hall of the People in Beijing, March 5, 2017. [Photo by Xu Jingxing/China Daily] 
Chinese Premier Li Keqiang delivered his much awaited and most watched Governemnt Work Report during the opening meeting of the fifth session of the 12th National People's Congress in Beijing on March 5. China watchers are busily trying to dissect every aspect of his speech to understand what he was saying and where China is heading. Premier Li's keynote address has gained stature internationally and would be closely watched by leaders of other nations around the world wanting to understand China and its policies. Any analyst hoping and expecting something dramatic or an earth-shattering pronouncement was likely disappointed by Sunday's address. Li Keqiang's speech is best summed up as focusing on consolidation, stability and avoiding the risks that may come from domestic and external factors.
The theme of the speech, covering almost every aspect of the Chinese economy and touching on the life of the Chinese people, is a sign of a leadership that is comfortable with what they have achieved and what they have set out to do. It is a speech that said China is on the right course and will continue to move ahead at a steady pace, rather than rush it.
The whole emphasis of Li's speech was about consolidating what China has been doing over the years. That is, economic development to bring about a prosperous China and better living standards for its people. Improving the environment, clearer skies, job creation and lowering unemployment, and agricultural reforms to improve productivity took center stage. The economy is targeted to continue to grow at a more leisurely pace of 6.5 percent, a departure from the years of hectic double-digit growth to ensure a more stable and sustainable growth.
The overall picture is of a China growing on its own terms with no great concerns and no pressure to take big risks. There is no worrying trends or developments that could trip up the progress of the Chinese economy and China's growing prosperity.
There are areas of concern but nothing unmanageable. Li Keqiang did raise the issue of independence movements in Hong Kong and Taiwan, and China's sovereignty in the South China Sea. His message was simple. Without being confrontational and unsettling the critics and doomsayers, he said that China would firmly and resolutely protect the One China policy, removing any doubts on what China would do when the One China policy and Chinese sovereignty are challenged.
The modest increase in the Chinese defense budget of 7 percent is also another statement that says threats to China's national security would be taken seriously but not something the Chinese leader is unduly worried about. China is not in a hurry to over indulge in military spending or in an arms race with the US to compete for military dominance and superiority.
China has chosen the path of economic development, to continue to grow and develop in a measured and predictable manner to improve the lives of the Chinese people. Military adventure and supremacy are not China's cup of tea.
In summary, Li Keqiang's speech is all about economic development, prosperity and the wellbeing of the Chinese people and for China to continue to grow as a sovereign nation.
The author is a political observer from Singapore.